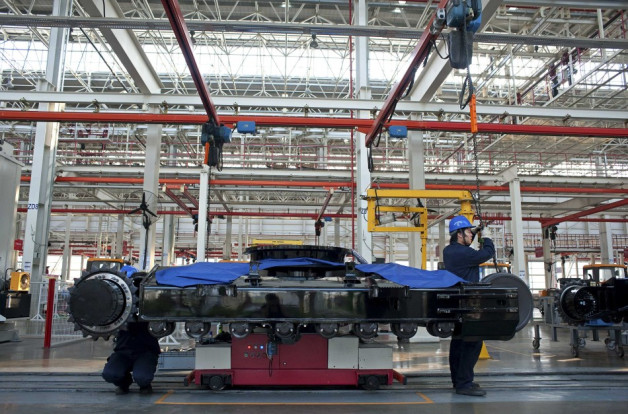 The pace of growth in China's economy has slowed down in the first quarter, with less-than-expected factory output and domestic consumption, indicating the fragile nature of the country's economic recovery.
The National Bureau of Statistics (NBS) said that the country's gross domestic production (GDP) rose 7.7 percent year-on-year in the first quarter, compared a 7.9 percent growth in the preceding quarter. Analysts polled by Bloomberg were expecting a growth of 8 percent on average.
Consumption and investment contributed 4.3 and 2.3 percentage points, respectively, to overall growth, while net exports contributed 1.1 percentage points.
Sequentially, the GDP growth was just 1.6 percent, compared to 2 percent in the fourth quarter.
Industrial production growth slowed to 8.9 percent in March, compared with 9.9 percent in the January-February period, as electricity production growth eased to 2.1 percent from 3.4 percent in the first two months. Retail sales rose 12.6 percent on year in March, compared to a 14.3 percent growth last year.
Meanwhile, fixed asset investment inched down to 20.9 percent year-on-year in the first quarter from 21.3 percent in January-February.
The government officials attributed the weak growth rate to global economic tensions and domestic controls such as the property cooling measures.
The weak data from the world's second-largest economy add to fears that a recovery in the global economy has to face more hurdles. This is in addition to a possible cut to the US growth outlook by the International Monetary Fund and investor George Soros' warning that Germany will probably be in recession by the end of September.
In March, the government set a 7.5 percent growth target for 2013, which it has to maintain through 2020 in order to reach its goal of doubling per capita income this decade.
Separately, the World Bank has cut its 2013 growth forecast for China to 8.3 percent from 8.4 percent.
"The economy in the near term still faces some downside risks: The outbreak of avian flu, the front-loading effects in the property market, and signs of slowed investment momentum could all sidetrack Q2 growth significantly," analysts at ANZ Research said looking forward.
"While a prudent monetary policy stance remains, a policy rate hike has become less likely this year. The central bank will continue to rely on the open market operations (OMOs) to fine tune the market liquidity conditions."