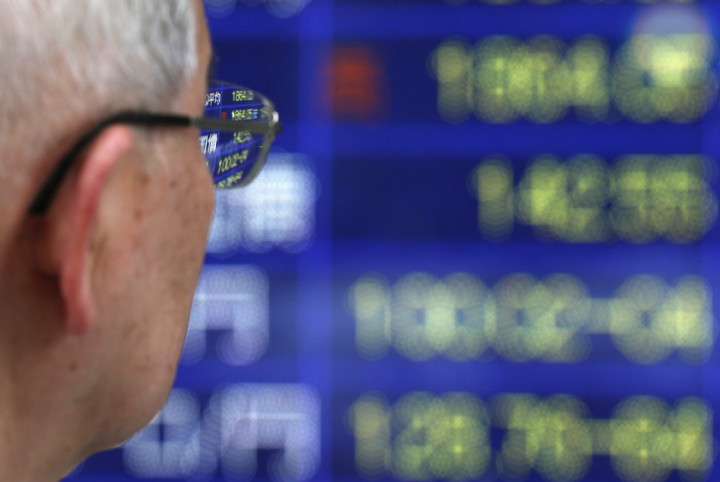 Asian markets were mixed on Tuesday on global economic growth concerns. However, Japanese stocks gained on a weaker yen and on upbeat cues from Wall Street.
The Japanese Nikkei was up 0.56% or 81.47 points to 14,587.72, hitting a seven-week high after a three-day weekend.
The Shanghai Composite index was down 0.29% or 5.96 points to 2,053.43.
Hong Kong's Hang Seng was trading flat to 21,304.11.
Australia's S&P/ASX index was up 0.09% or 4.30 points to 4,985.40.
South Korea's Kospi was down 0.56% or 10.47 points to 1,864.69 points. The mainland is Seoul's top export market.
Monday's data showed that China's economic growth slowed to 7.5% year-on-year in the April-June second quarter. The world's second largest economy expanded 7.7% in the first quarter.
In the US, government data showed that retail sales inched up 0.4% in June, missing expectations of a 0.8% gain. Weaker-than-expected data raised concerns about the pace of economic recovery in the world's leading economy.
Market participants will be tracking US Federal Reserve chief Ben Bernanke's testimony to Congress due later this week, for hints about the future pace of the Fed's asset buys. Lacklustre retail sales data could force the central bank to delay trimming its bond-buying program.
Wall Street ended slightly higher on Monday with the Dow and the S&P 500 logging new record highs. The Dow Jones Industrial Average finished 19.96 points higher at 15,484.26. The benchmark index is about 60 points away from its all-time high of 15,542.40 hit on 22 May.
The S&P 500 ended 2.31 points higher at 1,682.50, while the Nasdaq ended 7.41 points higher at 3,607.49.
In Tokyo, exporters' stock gained as the yen weakened against the US dollar. Pharmaceutical firm Dainippon shot up 5% while electronic device maker Alps Electric jumped 4%. Camera maker Canon added 2.7% while automobile maker Nissan Motor moved up 1.3%.
Subaru-maker Fuji Heavy Industries gained 1.5% on a Nikkei newspaper report that the company would report a record quarterly operating profit.
In Hong Kong, realty firm China Resources Land shed 2.5%. China Coal Energy was down 1.5%.
Energy major Cnooc moved up 1% after US benchmark crude oil futures settled above $106 a barrel on 15 June.
In Shanghai, property firm China Merchants Property fell 4%, while rivals Gemdale and Poly Real Estate Group lost over 3%. China Merchants Bank shed 1.2%.
In Sydney, resources major BHP Billiton inched up 0.2%. Iron ore miner Fortescue Metals added 0.3%.
Anglo-Australian miner Rio Tinto shed 0.3% ahead of the release of the firm's quarterly production report. Bad weather in Australia's Pilbara region is expected to hit production.
In Seoul, a weaker Japanese yen pulled down exporters' stocks as local firms are rendered less competitive as compared to their Japanese rivals.
Index heavyweight Samsung electronics lost 1%. LG Electronics fell over 2%. Woori Finance shed 1.3%.
Solar stocks rallied on news that China intends to quadruple its solar power generating capacity. Shares of Hanwha Chemical and OCI gained over over 5% each.