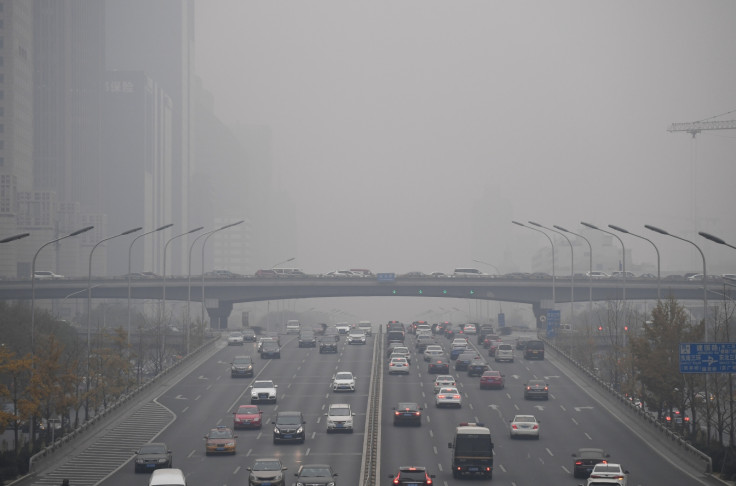 China has issued 2016's first red alert for air pollution that comes into effect from Friday (16 December). It is reported to be the highest possible warning yet after severe smog – since autumn – was forecasted to blanket several cities in the country.
The Ministry of Environmental Protection (MEP) warned of smog across 23 cities in northern part of China and said the alert was expected to run until 21 December. The last time such warnings were issued was in December 2015 for capital city, Beijing, when the communist government adopted a colour-graded warning system in a bid to crackdown on environmental degradation.
Starting Friday (16 December) evening, the odd-even system will come into force, meaning private cars will be allowed to ply on Beijing's roads only on alternate days, according to media reports.
The other areas where smog alert are in place include Tianjin, Hebei, Henan and Shandong provinces.
Nine other cities were issued the lower-status, orange alert, Liu Bingjing, the ministry's head of air quality management said. He added that this alert was the third joint warning by city governments for the month of December.
Several factors are reported to have contributed to the rising air pollution in China. It ranges from local emission of carbons, unfavourable weather and pollutants that had drifted in from elsewhere, Bai Qiuyong, head of China's Environmental Monitoring Centre said.
Authorities in Hebei province, near Beijing, have reportedly asked for a level one emergency response from bigger cities in the region to cope with the pollution.
According to a Reuters report, the red alerts are issued in Beijing when the air quality health index shows the measure of pollutants to be over 200 for more than four days continuously, or surpass the 300 mark for more than two days or go beyond 500 for at least a day. It is the highest warning level out of the four-tier system.
Depending on the index, a corresponding level in the colour-graded system is used as warning system to issue advisories for schools, hospitals and business. This rating is also taken into consideration to limit the use of cars, halt or reduce production at heavy polluting factories in cities like Tangshan, China's steel capital, until 21 December.