China Manufacturing Activity Rises to 18-Month High on Stimulus Measures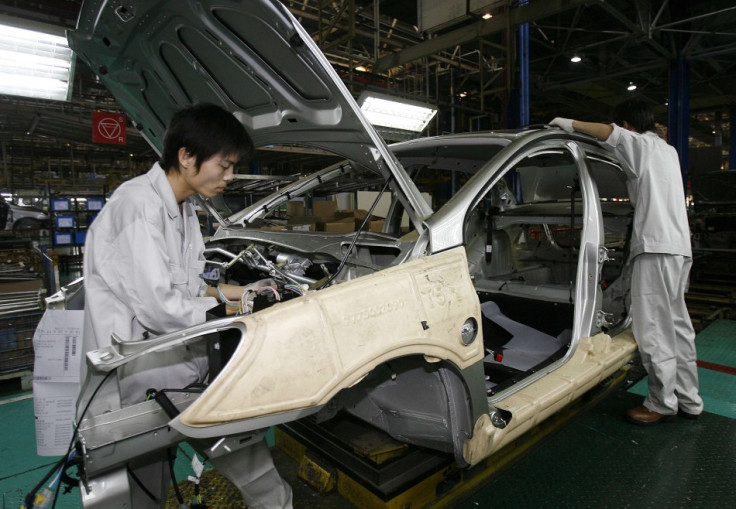 Manufacturing activity in China increased at the fastest pace in 18 months in July in further indication that the economy is stabilising and is on track to achieve the targeted economic growth for the full year 2014.
The HSBC flash China manufacturing purchasing managers' index (PMI) rose to 52 in July from 50.7 in June, representing an 18-month high. A reading above 50 indicates expansion in the sector.
The flash PMI is based on approximately 85%–90% of total PMI survey responses each month and is designed to provide an accurate indication of the final PMI data.
Manufacturing output for July increased at a faster rate, and so did new orders and new export orders. Meanwhile, employment in the sector declined, but at a slower pace than in the previous month. Stocks of finished goods also contracted at a slower pace.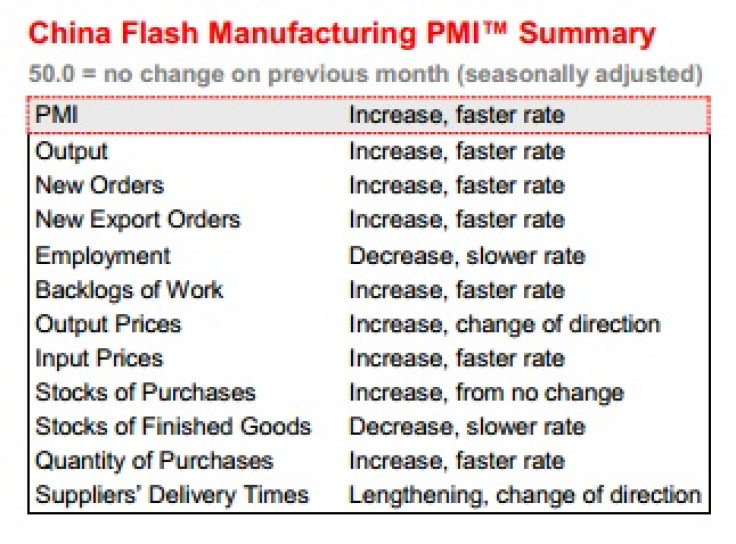 China July PMI
Markit
"Economic activity continues to improve in July, suggesting that the cumulative impact of mini-stimulus measures introduced earlier is still filtering through," Hongbin Qu, China economist at HSBC, said in a statement.
"We expect policy makers to maintain their accommodative stance over the next few months to consolidate the recovery."
Earlier, China reported a 7.5% growth in second quarter gross domestic product (GDP), up from a 7.4% growth in the first quarter. Overall growth in the first six months was 7.4% year-over-year.
The growth rate was above analysts' expectations, indicating that the country is picking up from a growth slowdown on the back of a number of mini-stimulus measures.
China is the world's fastest-growing major economy with annual gross domestic product growth rates averaging 10% for the last 30 years.
However, its economic growth has slowed down recently due to increasing exposure to foreign markets. In 2013, the economy expanded 7.7%, the lowest pace in more than a decade.
Fearing a continued slowdown, Beijing has undertaken a series of modest stimulus measures to boost growth.
Nevertheless, Chinese leaders are of the opinion that lower growth rates for the sake of reforms are acceptable in the country. Chinese Premier Li Keqiang earlier reiterated that his country is looking for qualitative growth, saying growth rate slightly higher or lower than the targeted 7.5% will be acceptable.
© Copyright IBTimes 2023. All rights reserved.