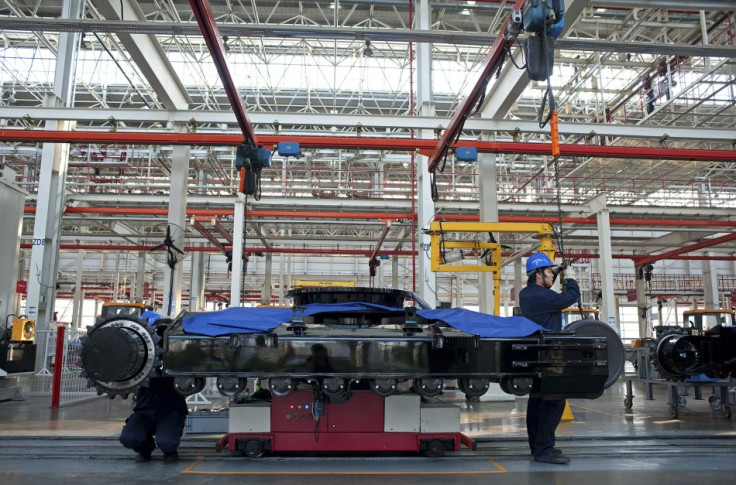 Manufacturing activity in China contracted for the first time in seven months in May in further indication that the world's second-largest economy's economic recovery is losing steam in the run to the second quarter.
The preliminary HSBC China Manufacturing Purchasing Managers' Index (PMI) showed a reading of 49.6 in May compared to a final reading of 50.4 in April. An index reading below 50 indicates contraction in activity.
The contraction was for the first time since October 2012, when the index was at 49.5.
"The cooling manufacturing activities in May reflected slower domestic demand and ongoing external headwinds," Qu Hongbin, HSBC's economist in Hong Kong, said in a statement.
"A sequential slowdown is likely in the middle of 2Q, casting downside risk to China's fragile growth recovery. Moreover, the further signs of labour market slackness call for more policy support."
Amid weak domestic demand and crisis in key export markets, China's economy expanded 7.8% in 2012, the slowest pace in more than a decade. With a growth rate of 7.9% in the final quarter of 2012, the economy showed some resilience and economists had expected a steady recovery going forward.
However, China's hopes for recovery suffered a setback with gross domestic product growth slowing to 7.7% in the first quarter. The country's leaders said they are trying to revive consumer demand as the key growth driver of the economy rather than investments and exports. As part of the economic restructuring, the leaders expect a slowdown in growth from the near-double-digit yearly rises of recent decades.
The latest manufacturing PMI report, along with a series of disappointing statistics for April, points to a further slowdown in the second-quarter GDP, according to many analysts.
Earlier this week, UBS AG cut its China growth forecast for 2013 to 7.7% from 8%. Major investment banks, Goldman Sachs Group, Royal Bank of Scotland and JPMorgan Chase, also reduced their forecasts.
The preliminary HSBC PMI, which is based on approximately 85%-90% of total PMI survey responses each month, is the earliest available indicator of manufacturing sector operating conditions in China. The final PMI for May will be released on 3 June.