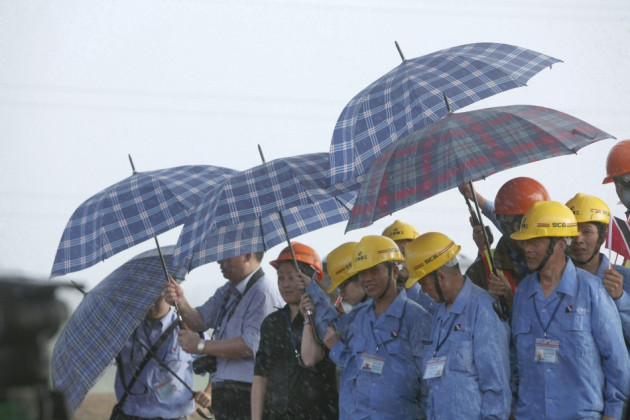 China's economy appears to be slowing down after two separate measures gauging the country's manufacturing activity declined in June.
The official Purchasing Managers' Index (PMI) fell significantly to 50.1 from 50.8 in May, the National Bureau of Statistics and China Federation of Logistics and Purchasing said. While the index was slightly better than economists' expectations of 50.0, manufacturing activity remains lukewarm.
In addition, a private PMI from HSBC Holdings and Markit Economics was at 48.2, the weakest since September and down from the previous month's reading of 48.3. Readings above 50 in the index signal an expansion in manufacturing activity.
The official PMI is based on a survey of about 3,000 enterprises that are mostly state-owned, while the HSBC PMI primarily gauges activity in more than 420 private sector enterprises.
"The official PMI figures suggest that China's recovery remains fragile," said economists at ANZ Research.
"Our ANZ Real Activity Index, a leading indicator for China's quarterly GDP, has also declined in Q2, signalling that growth may have slowed further."
China is expected to miss its annual growth target for the first time since the Asian financial crisis in 1998 due to weaker gains in the manufacturing sector and a cash squeeze in the banking system.
Separate indices measuring production, new orders and new export orders also declined in June.
"Falling orders and rising inventories added pressure to Chinese manufacturers in June. And the recent cash crunch in the interbank market is likely to slow expansion of off-balance sheet lending, further exacerbating funding conditions for SMEs," Hongbin Qu, chief economist at HSBC, said in a statement.
"As Beijing refrains from using stimulus, the ongoing growth slowdown is likely to continue in the coming months."
Earlier, Goldman Sachs Group, China International Capital, Barclays and HSBC Holdings lowered their China growth projections this year to 7.4%, below the government's 7.5% goal set at a March.
Even though the liquidity squeeze experienced early in June has stabilised, interbank interest rates have declined in the past few trading days. Analysts expect that the high market interest rates would lead to higher bank lending rates, further dampening the already sluggish economy.
They are calling for the People's Bank of China to cut its policy interest rates by at least 25 basis points in the near term to stabilise the decelerating economy.
Nevertheless, the Chinese leadership are prepared to tolerate the slower economic expansion as they are of the view that officials should not be judged solely on their record in boosting gross domestic product, according to the official Xinhua News Agency. Instead, the ruling Communist Party is likely to focus on improving people's livelihood, social development and environmental quality, Xinhua noted.