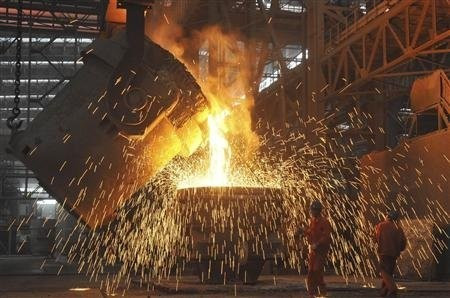 China has reported an unexpected rebound in its manufacturing activity in May, suggesting that a stable but slow economic recovery is under way in the country.
China Federation of Logistics and Purchasing and the National Bureau of Statistics' latest Purchasing Managers' Index (PMI) showed a reading of 50.8 for May, slightly up from 50.6 in the previous month. Economists expected a reading of 50.1 for the month. A reading above 50 in the 100-point scale index indicates an expansion.
The results contrast with a recent survey by HSBC, which said that China's manufacturing activity slipped back into the contraction territory during May. The HSBC flash China manufacturing PMI fell to a seven-month low at 49.6 in May from 50.4 in April.
The logistics federation collects data from 3,000 companies from 21 industry groups, while the HSBC survey is based on responses from purchasing managers at more than 420 businesses primarily in the private sector.
The improvement in the sector comes as relief for the country's policy makers including Premier Li Keqiang, who said last week that there is little room for additional government stimulus to boost growth in the country. He expected improvements to come from economic reforms.
Earlier, the International Monetary Fund cut its 2013 growth forecast on China to 7.75% from 8% due to weak exports and global economic worries. Meanwhile, Beijing kept its growth target for 2013 at 7.5%, unchanged from last year.
Amid weak domestic demand and crisis in key export markets, China's economy expanded 7.8% in 2012, the slowest pace in more than a decade. With a growth rate of 7.9% in the final quarter of 2012, the economy showed some resilience and economists had expected a steady recovery going forward.
However, China's hopes for recovery suffered a setback with the gross domestic product growth slowing to 7.7% in the first quarter. The country's leaders said they are trying to revive consumer demand as the key growth driver of the economy rather than investments and exports. As part of the economic restructuring, the leaders expect a slowdown in growth from the near-double-digit yearly rises of recent decades.
Analysts noted that recent data is inconsistent with most other economic data, ranging from industrial profits to industrial production.
"This single data does not change our view on the softening economic condition in China, although it may ease some concerns about a rapid economic slowdown," economists at ANZ Research said in a note.
"While the government can tolerate a slower growth rate, especially from the recent speeches by Premier Li Keqiang, it is important to engage in fast economic and structural reforms to boost confidence on China's future growth prospect."