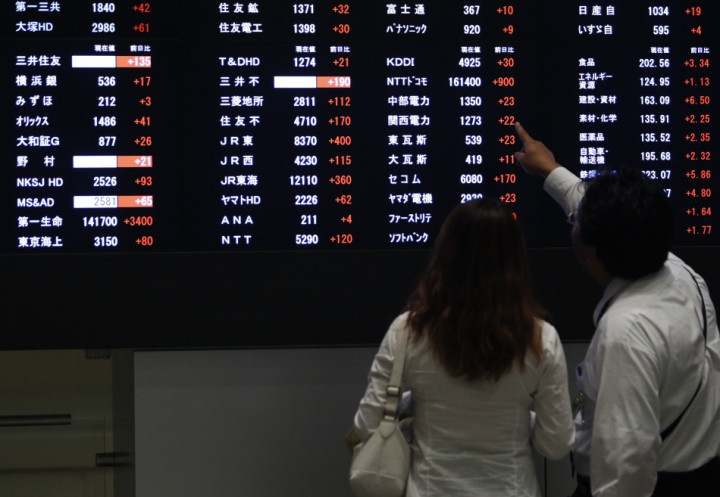 Asian markets outside mainland China traded higher on news that US lawmakers were close to resolving the ongoing fiscal gridlock that has brought the world's largest economy to a near standstill.
However, Shanghai witnessed cautious trade ahead of the release of China's third quarter growth numbers.
The Japanese Nikkei finished 0.26% higher or 36.80 points at 14,441.54.
Australia's S&P/ASX finished 0.98% higher or 51.20 points at 5,259.10.
South Korea's Kospi finished 1.02% higher or 20.69 points at 2.040.96.
The Shanghai Composite was trading 0.38% lower or 8.49 points to 2,229.28.
Hong Kong's Hang Seng was trading 0.40% higher or 94.03 points to 23,312.35.
India's BSE Sensex was trading 1.26% higher or 255.68 points to 20,528.59.
Financial markets in Japan and Hong Kong, which re-opened after a three-day weekend, digested remarks by US Senate Majority Leader, who said that he was "very optimistic" that the two sides would "reach an agreement that's reasonable in nature this week to reopen the government, pay the nation's bills and begin long-term negotiations to put our country on sound fiscal footing."
Republican minority leader Mitch McConnell said he was optimistic about reaching a deal, according to media reports.
"We have had an opportunity over the last couple of days to have some very constructive exchanges of views about how to move forward," McConnell said. "Those discussions continue, and I share optimism that we're going to get a result that will be acceptable to both sides," he added.
The US government shutdown will enter its 15th day on 15 October and Congress has 72 hours to decide on whether to raise the US debt limit.
The world's largest economy could run out of cash to pay its bills after 17 Octoberif the government's borrowing limit is not raised. The country's laws limit its borrowing to $16.7tn (£10.4tn, €12.3tn).
There are various estimates as to when the US government could run out of money.
Economists at JPMorgan provided a precise date of 24 October. However, the Bipartisan Policy Center expects the date to be anywhere between 22 October and 1 November.
In China, government data showed that the country's financial institutions handed out 787bn yuan ($128.8bn) in new loans in September, beating expectations by a wide margin. A Wall Street Journal (WSJ) poll of analysts expected China's loan disbursals to hover at 674.5bn yuan.
Wall Street Up
On Wall Street, indices ended higher on 14 October on hopes that Washington was inching closer towards a deal.
The Dow finished 64.15 points higher at 15,301.26. The S&P 500 closed 6.94 points higher at 1,710.14, while the Nasdaq ended 23.40 points at 3,815.27.
The CBOE Volatility Index (VIX), broadly regarded as the best gauge of fear in the market, finished near 16.
The US bond market was closed on 14 October on account of Columbus Day.
Company Stock Movements
In Tokyo, exporters' stocks gained on a weaker yen. Consumer electronics major Sony gained 2% while construction equipment manufacturer Komatsu added 1.6%.
Subaru-maker Fuji Heavy Industries added over 1% after the Nikkei newspaper reported that the automaker's group operating profit surged 250% year-on-year in the April to September quarter.
Mizuho Financial inched up 0.5% on news that US lawmakers were closer to a deal.
In Shanghai, China Railway Construction and China Railway shed 2% each as investors took profits. Both stocks surged 10% in the previous trading session.
In Hong Kong, Agricultural Bank of China rose 1.4% while rival China Construction Bank inched up 0.7%.
In Mumbai, HDFC Bank lost 1.5% while rival ICICI Bank shed 1.4%.
JLR-owner Tata Motors dropped 1.7% after touching a record high of 393.30 rupees on 14 October.
In Sydney, Anglo-Australian miner Rio Tinto shot up 2.5% on news that its iron-ore output rose to a fresh quarterly high. Rival Fortescue Metals jumped 5.8% after Rio Tinto's report.
Resources major BHP Billiton ended 1% higher after gold and copper prices rose overnight.
Westpac Banking added 0.9% on hopes that US politicians were closer to a deal.
In Seoul, automaker Kia added 1.4%.