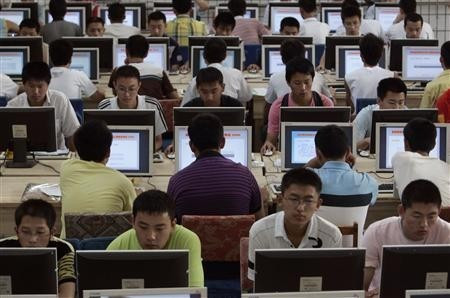 Growth in China's services sector has slowed down in April, in line with the weak growth in the manufacturing sector, reinforcing views that the country's economic recovery will be modest in the near future.
The National Bureau of Statistics (NBS) and the China Federation of Logistics and Purchasing (CFLP) said the offical non-manufacturing Purchasing Managers' Index (PMI) slipped to 54.5 in April, down from March's 55.6. A reading above 50 indicates an expansion in the sector.
A sub-index measuring new orders declined to 50.9, the lowest in at least a year, down from 52.0 in March. Catering, transport and maintenance sectors experienced fewer new orders in April, while new orders for hotels, telecommunications, broadcasting, television and satellite transmission services fared better, according to the NBS.
Another index gauging construction activity fell to 62.4 from 64.3 in March.
Input price inflation declined sharply with an index falling to 51.1 from 55.3 in March. At the same time, the employment at service providers improved in April with the corresponding index rising to 51.4 from 50.4 in March.
Previously, two separate indices showed that China's manufacturing growth declined in April on weak demand for exports and property-market overheating.
The final April reading of a PMI released by HSBC Holdings and Markit Economics was at 50.4, down from the preliminary reading of 50.5 and the March reading of 51.6. The official PMI from the NBS and CFLP showed a reading of 50.6 for April, down from a March reading of 50.9.
The weak services data indicate that the slowdown in the manufacturing industry has started pulling down other sectors as well. The overall weakness is expected to cool China's economic growth for a second straight quarter.
China's economy expanded 7.7% in the first quarter, less than analysts' forecasts and below the 7.9% pace in the last quarter of 2012.
The non-manufacturing index is compiled based on responses from 1,200 firms in the services and construction sectors.