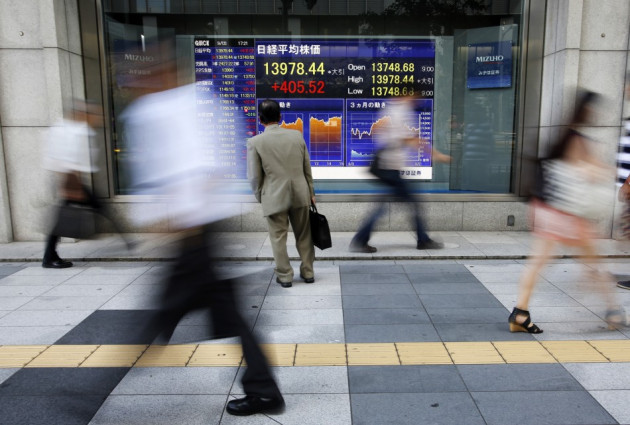 Asian markets outside China logged modest gains on 17 October, after US politicians agreed to raise the government's borrowing limit, averting a potentially disastrous debt default by the world's largest economy.
The Japanese Nikkei finished 0.83% higher or 119.37 points at 14,586.51.
Australia's S&P/ASX finished 0.38% higher or 20.20 points at 5,283.10.
South Korea's Kospi finished 0.29% higher or 6.00 points at 2,040.61.
The Shanghai Composite finished 0.21% lower or 4.53 points to 2,188.54.
Hong Kong's Hang Seng was trading 0.12% lower or 27.94 points to 23,200.39.
India's BSE Sensex was trading 0.15% higher or 31.78 points to 20,579.40.
On 16 October, US President Barack Obama ratified a bill approved by Congress to reopen the federal government and raise the country's debt ceiling, just hours before the crucial deadline to do so.
Under the new deal, the Treasury will have authority to continue borrowing through to 7 February, and the government will be funded through to 15 January.
President Barack Obama succeeded in defeating the Republicans in a 16-day long battle and kept almost all the features of his proposed healthcare law dubbed 'Obamacare'.
A US default on debt commitments would have had far-reaching consequences on both developed and emerging market economies. The partial government shutdown had cost the US economy $24bn and is expected to result in a significant reduction in fourth-quarter growth, ratings firm Standard & Poor's estimated.
In China, stock markets reversed early gains on 17 October as investors exercised caution ahead of a deluge of data expected on 18 October -- the government will release third-quarter GDP, industrial production, fixed-asset investment and retail sales data on Friday.
In South Korea, the country's central bank said that producer price inflation eased for the 12th consecutive month in September. A drop in the prices of oil and agricultural products; and a stronger local currency, with respect to the US dollar, resulted in September's decline.
Now that the US showdown is over, the "focus will soon turn to the delayed [US] data releases and the economic implication of shutdown," Credit Agricole analyst Gary Yau said in a note to clients.
"The fact that the same scenarios could happen again in a few months' time will also play in investors' minds, but nevertheless, we expect market tone to improve over the near term."
The Bureau of Labor Statistics could not release the widely tracked monthly US jobs report during the 16-day government shutdown - the report will throw more light on the health of the US economy and can impact the US Federal Reserve's QE taper decision.
The Bureau would need three days to compile September's report, according to Credit Agricole, and the jobs data could be out on 22 October.
Wall Street Rises
On Wall Street, indices ended higher on 16 October as investors cheered news coming out of Washington.
The Dow finished 205.82 points higher or 1.36% at 15,373.83.
The S&P 500 closed 23.48 points higher or 1.38% at 1,721.54.
The Nasdaq ended 45.42 points higher or 1.20% at 3,839.43.
The CBOE Volatility Index (VIX), broadly regarded as the best gauge of fear in the market dropped 19% to 15.
Company Stock Movements
In Tokyo, IT equipment maker Fujitsu shot up 5.5% while automaker Mazda Motor gained 2.3%.
Gaming major Nintendo gained 3%. Utility firm Kansai Electric Power rose 2.2% on news that it had returned to profits with a first-half pretax profit of 31bn yen ($314m).
Bankers Mitsubishi UFJ and Sumitomo Mitsui Financial added 1% each.
In Shanghai, realty firm Poly Real Estate added over 1%.
In Hong Kong, ZTE rose 4.8% on news that it had bagged a "more-than-60% share of the contracts in China Mobile's group tender for 100G Optical Transport Networking products for 2013".
China Mobile inched up 0.2%.
Agricultural Bank of China (ABC) and Bank of China shed 0.8% each on a Dow Jones Newswires report that China's central bank would pull out 44.5bn yuan ($7.3bn) from the banking system this week though regular open-market operations.
In Mumbai, information technology stocks were down as investors took profits. Tech Mahindra lost 1.4% while rival Infosys shed 0.4%.
In Sydney, building materials maker Boral jumped 6% on news that it would ink a $1.6bn joint venture with its US peer USG.
Gold miner Newcrest Mining shed 0.6% after it announced that it had agreed to pay A$120m to settle tax issues.
Iron ore miner Fortescue Metals lost 5%. Ten Network lost 3.5% on a wider-than-expected annual net loss.
Woodside Petroleum shed 1.3% following a 17% drop in production.
In Seoul, index heavyweight Samsung Electronics added 1%.