China's emerging middle class is set to ignite growth in Europe's tourism industry as rising incomes and currency appreciation will help lift the overseas spending of travelling Chinese by more than a third, according to new research.
The Financial Times's China Confidential's report, titled Outbound Travel Flying High, said overseas travel for China's middle class will generate around $160bn (€122bn / £106.5bn) in total spending, a 34 percent increase from last year. Nearly half of that total, the report said, could be spent on consumer goods.
The report, which surveyed 1227 middle income consumers and 39 travel agencies in ten first and second-tier cities across China, said France, UK, Italy and Germany are at the top of the list of China outbound destinations [Fig 1.]
Meanwhile 90 percent of their top ten dream holiday destinations are also in Europe.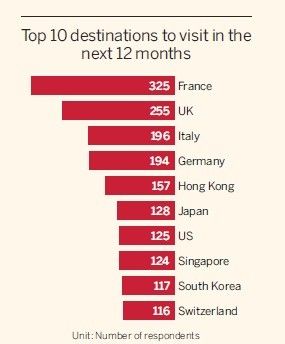 Luxury Goods
Although China has a growing domestic demand for luxury goods, over half of the survey participants say the reason for buying goods overseas was to ensure that they were not fake.
Leading Western brands, particularly French-owned luxury brands, dominate purchases among Chinese outbound tourists, led by Chanel, Dior, PPR's Gucci and LVMH's Louis Vuitton.
When IBTimes UK delivered a special report from one of the fastest growing cities in the world, Chengdu in the Sichuan province in China, experts told us that the demand for luxury goods is rising rapidly.
"Luxury goods are an incredible area for growth in Chengdu. Sichuan has a population of 100 million so even if only 5 percent spend vastly on luxury products in Chengdu that is a significant amount. The city regularly hosts luxury shows and most of the people with surplus cash just want to spend a lot of money on these products to stand out from the crowd," said Kyle Wang, chief representative, Chengdu manager for South West China at the China-Britain Business Council.
"So a majority of brands such as Burberry, Cartier and Gucci, who have made a mark in the city, will benefit from significant brand awareness for years to come," he added.
China Confidential's report says that 48 percent of spending on overseas trips in 2012 went on shopping with the wealthiest 26 percent of outbound tourists, around 21m people, spending on average of RMB43,770 (£4683) on each trip in 2012
According to government-backed China Tourism Academy, if the total number of outbound Chinese travellers continue to grow at last year's 17 percent to 82m, then some 200m Chinese could be travelling abroad annually by 2020 [Fig 2].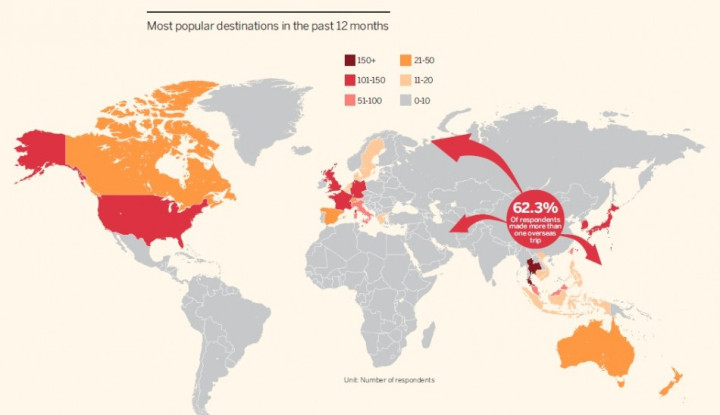 Good News for Europe
The latest data could come as a relief to the European Travel Commission (ETC) after it launched an 18-month plan to target China, Brazil and the US for growth in European tourism following the region's tumbling share of international tourism arrivals.
In an interview with IBTimes UK in November last year, ETC's CEO Eduardo Santander told us that "we've all been talking about the growth of China across many sectors for the last six years, but in terms of Europe capitalising on tourists from China we still have to tap into the huge potential there."
According to Tourism Economics and the ETC, Europe's share of outbound China travel has fallen since 2006 and is predicted to remain flat until 2016, unless new strategies and targeted promotion are put in place [Fig. 3].
China Confidential's data shows that 62.3 percent of the survey group have made more than one overseas trip and 25 percent have travelled abroad three times or more over the past 12 months.
Those surveyed plan to spend an average of 33 percent more on their next foreign trip than their previous one.