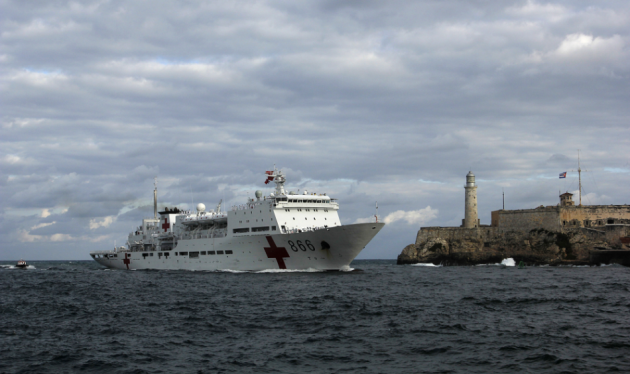 China has dispatched its state-of-the-art hospital ship, the Peace Ark, to the Philippines following global and domestic criticism of the communist state's lethargic response to Typhoon Haiyan, which killed 4,000 people.
The deployment of the 14,000-tonne medical vessel, which has 300 beds, eight operating tables and 100 medical staff, was confirmed on Tuesday by Xinhua, the Chinese news agency, and the Foreign Ministry in Beijing.
State television also reported the arrival of the first consignment of Chinese relief supplies in the Philippines.
The precise details of the Peace Ark's deployment are yet to be announced but the Foreign Ministry spokesman Hong Lei confirmed that the hospital ship will depart as soon as possible.
"China has always been concerned about the Philippines typhoon disaster," he said.
"In the spirit of helping the dying and healing the injured, we plan to send rescue workers to the disaster area."
It has been nearly two weeks since Typhoon Haiyan devastated China's neighbour, leaving 4,000 people dead and millions displaced. Hundreds of thousands are still yet to be touched by emergency aid.
China, the bearer of the world's second largest economy, only initially offered $200,000 to Manila for the relief and rescue effort before raising it to $1.8 million.
This is in stark contrast with the United States who deployed 50 ships and aircraft to the disaster zone, contributing $37 million in humanitarian aid.
Diplomatic tensions between the two nations have risen in the last year over territorial disputes in the South China Sea and are thought to be the cause of China's reluctance to mobilise relief efforts.
China's unwillingness to send substantial aid in comparison with other nations has even drawn criticism from typically nationalist domestic media outlets such as the Global Times, who condemned the ruling government's insignificant aid contribution.
A Chinese cargo plane delivered tents and blankets to the central Philippine city of Cebu on Tuesday, the Chinese broadcaster CCTV said.
"The Philippine Department of Social Welfare and Development head has said the Chinese relief goods are very useful," Wu Zhenping, a Chinese embassy official, told the station.
"They will distribute some goods to evacuated victims in Cebu and the rest to victims in the worst-hit area, Tacloban."
The Peace Ark, one of the newest and biggest hospital ships in the world, has been on a number of goodwill tours to Cuba, Djibouti and Myanmar among others in recent years and is used frequently as an extension of Chinese diplomacy.