China-UK freight train arrives in London after 7,500 miles 'Silk Road' journey
Faster than shipping, cheaper than flying - hopes China-UK 'Silk Road' train will help UK trade.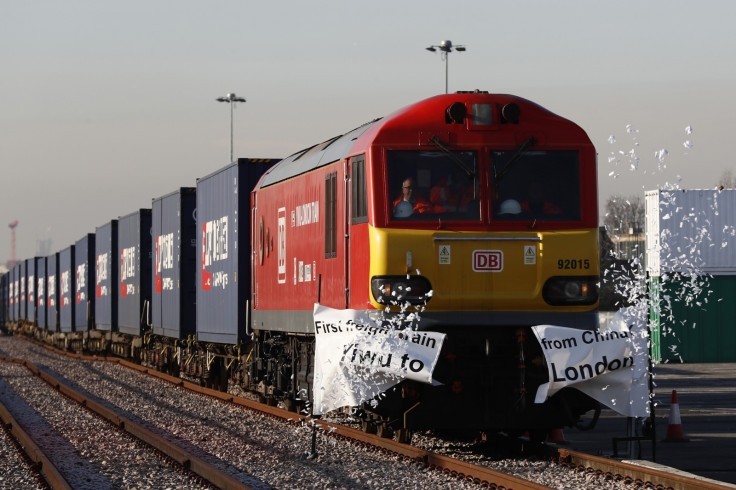 The inaugural freight train to directly link China and the UK has arrived in London, raising hopes the new route could strengthen trade and other ties between the two countries. The train, pulling 44 containers, departed from Yiwu West in eastern China on 1st January, taking 18 days to make the 7,500 miles (12,000km) journey and arriving in Barking, London today (18th January).
The train, which was carrying mostly household items including clothes, suitcases and bags, travelled via Kazakhstan, Russia, Belarus, Poland, Germany, Belgium and France before passing through the Channel Tunnel. Ten containers were taken off at Duisburg but the remaining 34 arrived at Barking Eurohub freight terminal where the train was met by a delegation from the Chinese Embassy and other officials.
The Yiwu-London link makes the UK the 8th European country to agree a direct train link to China, where Premier Xi Jinping unveiled his "One Belt, One Road" policy in 2013, Reuters reports. It is hoped this modern version of the ancient Silk Road trading links will usher in a new era of trade between the East and West.
Prime Minister Theresa May is keen to strengthen international links as the UK moves towards breaking from the European Union. The China-UK route will be made weekly for the next few months to see if the demand is there, though it remains to be seen how much freight will be taken in the other direction.
The direct train costs roughly half as much as moving freight by air and is two weeks quicker than the quickest sea route, and because the train uses existing infrastructure costs, have been kept down. However this has meant transferring all the train's contents on the China-Kazakhstan border due to a different gauge in use in the former USSR. The freight must all be transferred again on reaching the Belarus-Poland border, Railway Gazette reported.
© Copyright IBTimes 2023. All rights reserved.