A cleaning company is paying women £45 an hour (pro rata £90,000 per year, €103,000, $111,000) to clean houses in Peterborough and Cambridge – naked.
Naturist Cleaners placed an advert on social media that read: "We are looking for female naturist cleaners who can clean private houses nude. The job will require doing all general cleaning like dusting, tidying up, vacuuming, watering plants, making beds, using the washing machine, ironing clothes and cleaning windows."
Laura Smith founded the cleaning service after a client told her he was a naturist and asked whether she would clean his home while naked. "I thought why not? If it makes someone feel amazing about themselves. He was a very intelligent man and we had long chats about naturism and how it makes one feels being nude."
The company website states: "We believe in the liberty of the true human form and the serenity of a spotlessly cleaned home. It is important that your houses are clean and sparkling because a clean environment promotes positive thoughts. But you do not have to do this tiresome task alone. Hire our nude cleaning services now and go ahead, have a relaxed day. You can choose our nude cleaners that suit your preferences."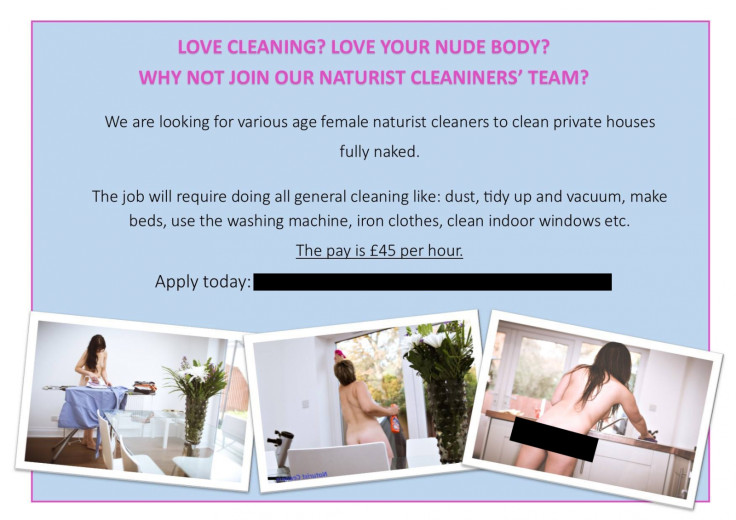 The interaction between client and cleaner is described in a blog post: "As she cleans, you are free to do as you please. You can let her go about her business, or you can watch as she cleans."
The benefit of hiring a nude cleaner is also emphasised: "It transforms a boring, standard cleaning job into something you can enjoy and remember forever as a very fun and exciting experience."
In December the company announced they are expanding their services internationally and are looking for female cleaners to start work in Spain.