Chinese silver medallist He Zi got more than she bargained for on Sunday (14 August) during her medal ceremony at the Rio 2016 Olympics. Longtime boyfriend Qin Kai bent down on one knee and popped the question in one of the more romantic moments of the Games.
After He received her silver medal for the women's 3m springboard, behind teammate Shi Tingmao, fellow Chinese diver Qin strolled over to ask her to become his wife. He Zi was visibly surprised when Qin appeared with an engagement ring in hand to the podium.
Following a lengthy proposal at the Maria Lenk Aquatics Center, she finally said yes to Qin, prompting an enthusiastic fist pump from her groom-to-be. Tears and hugs by both followed. Qin reportedly showed the ring to bronze medallist Tania Cagnotto before the ceremony.
"I didn't understand why. Now I understand," Cagnotto said. "I think it's a really good moment to ask her to marry him, so I'm really happy for He Zi and Qin Kai." Gold medallist Shi Tingmao added: "Both of them have gone through a lot over many years, I think that today it's a great moment."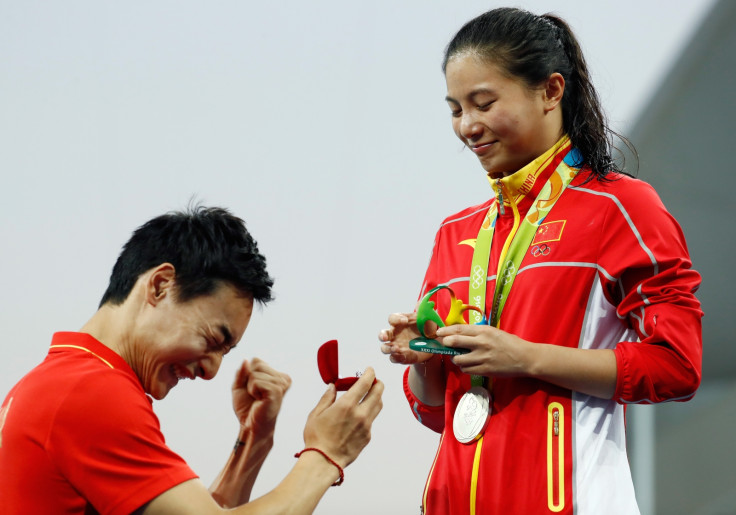 He Zi said the couple has been dating for more than six years and that the marriage proposal was unexpected. "He [Qin] said a lot of things on the podium, made a lot of promises," she said. "But the thing I am touched by the most is that I think this is the guy I can trust for the rest of my life."
This marks the third marriage proposal of the Games. Volunteer Marjorie Enya proposed to Brazilian rugby player Isadora Cerullo over the public-address system at Deodoro Stadium, Yahoo Sports reported.
Meanwhile, Team USA's Morgan King, who broke a US record of 182.9lbs in women's weightlifting on 12 August got engaged to her coach, Dean Kruse. The couple shared the news on social media, with King tweeting: "American Record, Engaged, what's next Brazil?!?!? #rio2016 #besttripever #teamusa".