Usain Bolt has continued to make Olympic history after defending his 100m crown at Rio 2016, reaffirming his status as the fastest man on the planet.
The Jamaican becomes the first athlete to win three consecutive gold medals in the same event after thundering across the finishing line with a time of 9.81 seconds.
Justin Gatlin took the silver medal after finishing with a time of 9.89 seconds, with Canada's Neil DeGrasse claiming the bronze with a time of 9.91 seconds.
The defending champion got off to a slow start with American rival Gatlin taking an early lead, but in typical Bolt fashion, he powered through to clinch a historic win in what is to be his final Olympic Games.
It is Bolt's seventh Olympic gold medal in all, having secured a treble of 100m, 200m and 4x100m golds in 2008 and again in 2012. He will challenge in those events once again next week as he chases an unprecedented "treble treble."
A haul of nine gold medals will see him equal the records of Finland's Paavo Nurmi and Carl Lewis for the most by a track and field athlete.
The sprinting legend plans to retire after the 2017 World Athletics Championships in London next summer.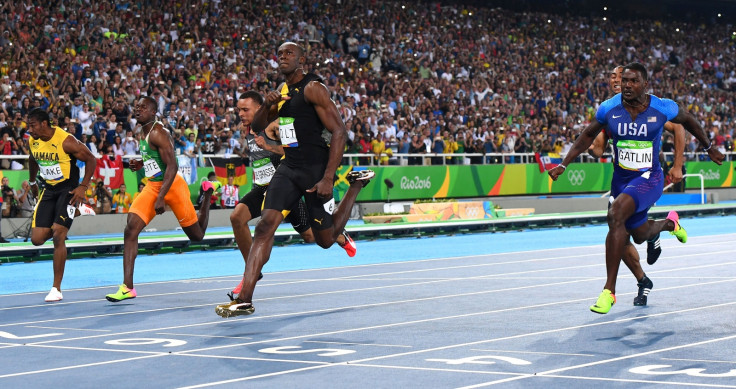 "After the semi-final I felt extremely good," Bolt told BBC One. "I wanted to run faster but with the turnaround time, we normally have two hours, but we had one hour and 20 minutes, it was challenging. But this is what we train for. I told you I was going to do it. Stay tuned, two more to go."
Bolt had earlier clocked his fastest time of 2016 in his semi-final heat, glancing from side to side before he sauntered across the finishing with a time of 9.86 seconds. 2004 Olympic champion Gatlin qualified for the final with a time of 9.94 seconds.
More to follow...