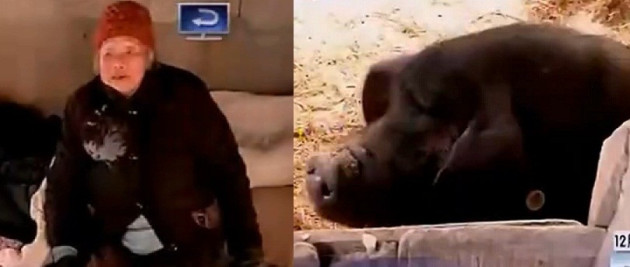 A farmer has shocked China after it was revealed he made his mother to live in a pigsty for two years along with a 200kg sow.
Chen Shoutian, from Guanyun county in Jiangsu province, came under fire after a local television station showed the conditions the elderly woman was living in.
Chen told Jiangsu Television that the mother-of-eight was happy living in a shack with a pig.
"She wants to stay here because she feels it is convenient," he said. "I definitely [would] have no problem living here."
Chen added that he put his mother in the pigsty because there was no space for her inside his six-room house.
The relatives of the 100-year-old expressed their outrage at the situation. Her grandson Liu Zhanbing said: "[It's] too smelly, so smelly that it is impossible to even come inside. I couldn't live with that."
Her daughter Gu Yuqing added: "There were countless flies and mosquitoes in the summer and my mother was living right here. It broke my heart.
"She's so old - and to live with pigs! How can we not feel sad?"
The news followed shortly after a case which sparked equally fierce debate over how China treats its elderly.
In Nanjing's Xiaguan district, a 91-year-old woman was beaten by her daughter-in-law after asking for a bowl of porridge, according to Shanghaist.com.
The 91-year-old was beaten because she asked for a bowl of porridge off her daughter-in-law because she had "eaten noodles for 22 years".
According to reports, a neighbour told police: "She's been kicked before, you can hear her crying out in pain."