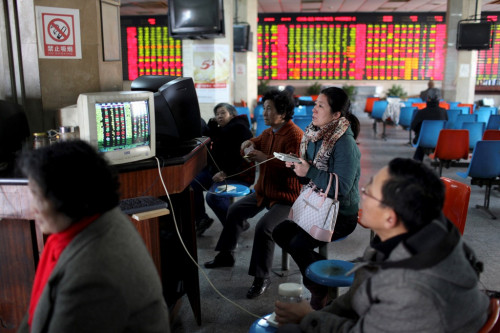 Individual investors in China are shunning initial public offerings (IPOs) over worries that they may be overvalued.
Almost half of all companies that have gone public in China since June 2009 now trade below their offer price, according to Bloomberg data.
Investor wariness in the world's second-largest economy could spell trouble for firms looking to raise funds in Shanghai and Shenzhen, particularly after PricewaterhouseCoopers estimated that shares worth $41bn (£25bn, €30bn) could find their way on to Chinese bourses this year.
While Société Générale said the bearish sentiment was a call to buy shares; Asian Capital Holdings and Calibre Asset Management forecast it would weigh down on stocks in a market where retail investors make up more than 80% of trading volume.
CSRC Crackdown
Attempts by China's securities regulator to check overvalued IPOs could help protect investors against losses, Tai Hui, the Singapore-based chief market strategist for Asia at JPMorgan Asset Management told Bloomberg.
The China Securities Regulatory Commission (CSRC) has initiated spot checks on IPO pricing. It could put off offerings by companies found to have divulged information not mentioned in IPO prospectuses and other public releases.
However, the CSRC crackdown on IPO pricing could push investors to sell and take profits on the first day of trading, said Dai Ming, a money manager at Hengsheng Hongding Asset Management.
Individual investors do not expect "large upside in the Chinese market and their investment horizons are short," said Anthony Neoh, a visiting professor at the National University of Singapore and a member of the CSRC's international advisory body.
"Retail sentiment may come back if there is a clearer message that the markets will be better regulated," Neoh added.
Shanghai Composite Underperforms
The Shanghai Composite Index has lost about 4.8% so far this year. The benchmark index dropped to a five-month low on 20 January.
The number of Chinese stock accounts containing funds dropped to a three-year low of 53.7 million on 17 January, or 3.6 million fewer accounts from the June 2011 peak, Bloomberg data showed.
The fall, trigged by slowing economic growth and the transition toward higher-yielding wealth management products, has fuelled losses in the Shanghai Composite, which has lost a whopping $571bn of market value over the past four years.
The index has gained some 0.90% over the past five years.