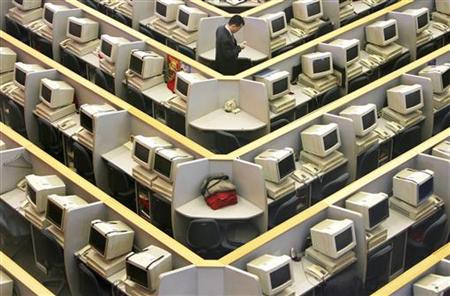 Seven Chinese stocks were suspended from trading on their debut day on Shenzhen stock exchange after their prices exceeded limits set by the exchange.
There were eight companies that started trading on the exchange on 21 January.
Among them, Zhejiang Wolwo Bio-Pharmaceutical, Chengdu Tianbao Heavy Industry, Guangdong Qtone Education and other four companies were suspended from trading from 10:30 am to 2:57 pm, three minutes before the close.
Trading was initially halted for an hour after 9.30 am as the shares exceeded the limit of a 32% gain.
The stocks have jumped more than 44% from their initial public offering (IPO) price. Hangzhou Sunrise Technology, which is trading up 19%, was the only IPO not suspended.
Guangdong Xinbao Electrical Appliances, Liangxin Electrical and Changzhou Guangyang Bearing were listed on the Small and Medium Enterprises (SME) board, while Zhejiang Wolwo Bio-Pharmaceutical, Truking Technology, Guangdong Qtone Education, Hangzhou Sunrise Technology and Chengdu Tianbao Heavy Industry were listed on ChiNext board focused on innovative businesses and emerging industries.
China Resumes IPOs
Chinese companies raised a record $71bn from IPOs in 2010, and the country has become the world's largest market for new share sales.
In October 2012, stock market regulators halted all IPOs in the country due to rising speculative trading. Policy makers drafted rules to tighten IPO supervision and IPOs resumed last week after more than a year.
Neway Valve (Suzhou) Co. was the first company to start trading on 17 January after the IPO freeze. The stock has fallen 13% in two days after jumping up to 43% on debut day.
The China Securities Regulatory Commission has so far approved 52 companies to conduct IPOs following the freeze.
The Shenzhen exchange said in a statement that domestic investors have yet to establish a rational investment culture.
It noted that some investors ignore the stock fundamentals, and they speculate due to the lack of sufficient expertise and investment experience, blindly following the trend.
Excessive speculation over IPOs not only distort the pricing of the stock in the secondary market but also affect the subsequent IPO inquiry, affecting the smooth progress of new reforms, the exchange added.