The 1989 Ashes series saw an Australian squad which had been dubbed the worst side to ever tour England recover from two test wins in their last 11 to reclaim the urn with an emphatic 4-0 win. It is also the series from which Chris Rogers, the Middlesex captain, aptly drew inspiration from ahead of his own career.
"It was fantastic watching all those guys play so well and really sticking it up England," Rogers said. "I guess early memories have been those kinds of ones and to be part of that would be something to remember forever."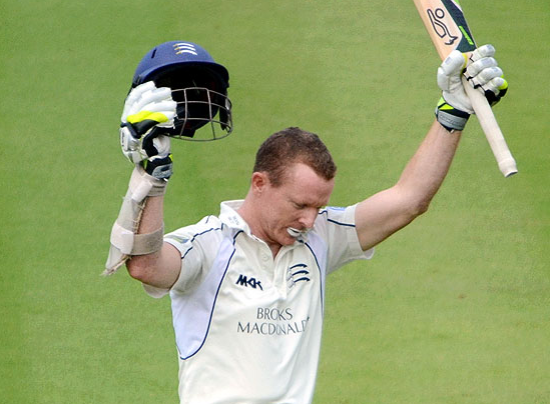 The 35 year old is now one of the 16-man Australian squad of which similarly ominous sentiments have been made and Rodgers faces the task of transferring his initial Ashes motivation into a victory which would evoke special memories.
Bar the uncapped James Faulkner, Rogers' international experience is as shallow as any in an Australia squad charged with winning a first Ashes series in England for 12 years.
A sole test appearance came in 2008 against India but since his playing career has been restricted to domestic cricket, a form which while treating the New South Wales left-hander well, had absorbed his belief of once again representing his country.
"There were times when I thought I'd given up a little bit," Rogers admitted.
"There were a lot of 50-50 decisions between myself and other players and they opted maybe for the youth angle a little bit as well.
"I thought the selectors were going in a different direction but I guess that the fact that our results haven't been as good, and people haven't nailed down their position as much as they'd like, has left the door a little bit open.
"There have been some tough times but it's as much of a relief as much as anything to have the opportunity to show I can play at that level.
"I guess as you get older and you know the end is near you don't take anything for granted and as an Australian and being the type of person that I am I tend to fight for everything that I can get," he added.
"Over this last period it's been a case that if anything has come my way I've tried to take it. I hadn't given up hope of playing for Australia yet so that has been rewarded."
After the controversy created by Justin Langer's leaked dossier on the England team in 2009, Australia will be hoping Rogers can provide the necessary in-house insight this summer.
Over 2500 runs in just over two consecutive years at Middlesex suggest English conditions suit his later years, and coupled with Steven Finn being in close proximity, Rogers feels he has plenty to offer an Australian side who have won three of their last 10 tests both at, and away from the crease.
"I'm probably have more experience of English conditions than any of the side and hopefully a little bit of knowledge of the opposition as well," Roger said.
"I'll be looking to pass on pieces of information as well but also to bring some experience with my batting as well.
"I don't think people over here understand that conditions in England are quite foreign to Australia. These things are a little bit tough and even getting used to the changing rooms, intricate things like that as well and hopefully I can play a part in that.
"I'd like to think that the leadership group will lean on me for my experience and see what I have to offer but let's see what happens. I do know that playing in some of these wickets is different.
"I get to play with Finny and play against the likes of James Anderson, Stuart Broad and Graeme Swann that they are some of the best cricketers in the world and it's always going to be a challenge."