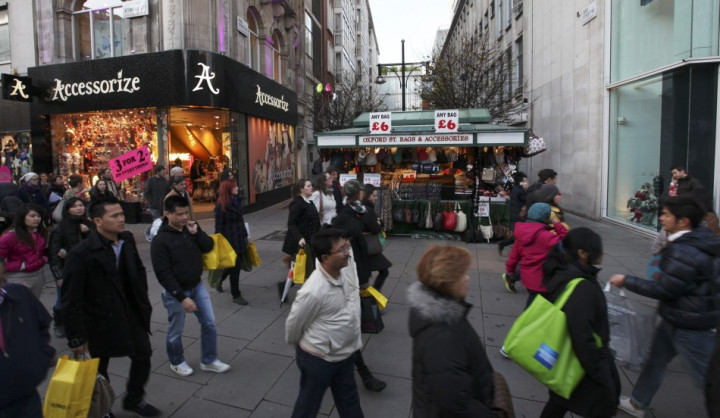 Some of the high street's best-known retailers have posted disappointing Christmas and pre-seasontrading results, adding to the fears over 2012's bleak prospects for the retail market.
Catalogue store Argos has seen like-for-like sales plummet 8.8 percent in the 18 weeks to December 31.
"The consumer electronics market, in particular video gaming and audio, remained weak and has continued to account for the majority of the reduction in Argos' sales, although laptops and tablets remain strong performers," said Argos's owners, Home Retail Group.
Tesco revealed in its Christmas trading statement that heavy investment in promotions amid a price war between the big supermarkets "did not offset the deflation it has driven".
It said like-for-like sales were down 2.3 percent, adding that profit growth for 2012 would be "minimal".
"In a challenging economic environment, we made good progress internationally but despite record sales we are disappointed with our seasonal trading performance in the UK," said Philip Clarke, chief executive.
Game Group, Europe's biggest video games retailer, saw a significant 15.2 percent slump in like-for-like sales for its UK and Ireland stores during the eight weeks leading up to 7 January.
This means it is likely to breach bank agreements on its earnings before interest, taxes, depreciation and amortization, though Game says it "remains compliant" with agreements over bank loans.
Game "continues to be in regular and constructive dialogue with its lenders, who remain supportive" said the company.
"Our industry had an incredibly tough 2011, and so did we," said Ian Shepherd, chief executive.
Baby brand Mothercare's like-for-like sales across Britain were down 3 percent in the third quarter of 2011, taking the fall in total UK like-for-like sales for the year to 5.4 percent.
Although total sales at chocolatiers Thorntons were up 0.6 percent, the figure was not as good as the company wanted.
"While this was below our expectations, we nevertheless sold more chocolate in the quarter than ever before," said Jonathan Hart, Thorntons' chief executive.
Retail Hope Amid the Gloom
On the plus side, department store John Lewis posted a 9.3 percent rise in sales over the Christmas period, following its television advertising campaign.
Rival Debenhams also posted better-than-expected results, with a 6.5 percent rise in like-for-like sales.
And sportswear retailers JD Sports reported increased like-for-like sales of 1.6 percent in the five weeks to 7 January.
"I would like to thank all our staff who through their efforts and commitment in this busy trading period have helped deliver this creditable result," said Peter Cowgill, JD Sports' executive chairman.
In a victory over their rivals Tesco, Sainsbury's hailed its "best Christmas ever" with "record-beating" sales.