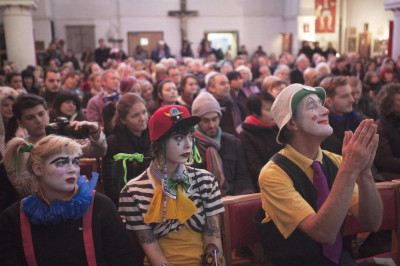 Clowns across the world attend the Joseph Grimaldi Memorial Service, held annually on the first Sunday of February at Holy Trinity, the 'Clowns Church' in east London.
Joseph Grimaldi was an English actor and comedian who is known for his invention of the modern day whiteface clown. Joseph Grimaldi was the original 'Clown Joey'.
As a pantomime clown, Grimaldi tasted great success in Harlequin and Mother Goose at the Theatre Royal, Covent Garden.

Grimaldi retired through illness at the age of 45. He died on the night of 31 May, 1837.
Check out the pictures of clowns attending Joseph Grimaldi memorial service: