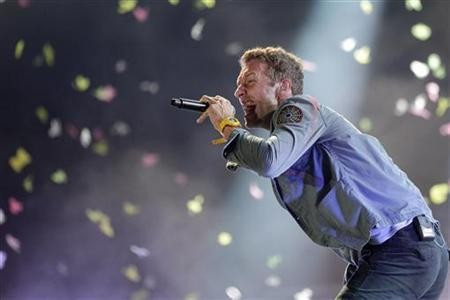 Coldplay Frontman Christ Martin has revealed that Beyonce rejected a song that he had penned for her.
During an interview with Maxim magazine this week, the singer and writer admitted that pop diva Beyonce and her A&R people had snubbed him over the track forcing him to call in Rihanna to feature on the Coldplay's 'Mylo Xyloto' album instead.
The 34-year-old British star, who is married to Hollywood actress Gwyneth Paltrow, told Maxim: "Well, I did write a song for Beyoncé, but it got rejected by her A&R people. And the one I wrote for Rihanna didn't get rejected. It was when she was doing 'Rated R', but it took so long -- there's still this tribalism in music where we're rock and you're pop and you're hip-hop, and it sometimes takes a while to get across those barriers."
He continued: "A 14-year-old doesn't even see those barriers. So once we started thinking like that, it was, 'Who cares if we used to be shelved in different places in Tower Records?"
Meanwhile, the singer also expressed his support for songstress Rihanna by saying: "She's f**king rad, and I love listening to her. It's my favourite real singing on the album, because it isn't me."
This new revelation might throw a spanner in the works and prove an awkward talking point for the British singer's budding friendship with Hip hop star Jay Z. According to reports, their other halves, Gwyneth Paltrow and Beyoncé have even become the best of friends.
Coldplay are currently gearing up to commence their European tour of next month. They will perform three major UK arena shows in Glasgow, Manchester and London.