Free-agent American football quarterback Colin Kaepernick has filed a grievance against NFL team owners under the league's collective bargaining agreement (CBA), his legal representative Mark Geragos announced on Sunday night (15 October).
Kaepernick, the former San Francisco 49ers signal-caller, gained notoriety after he sat and later knelt during the national anthem before games last season in order to protest racial injustice and police brutality in America. He believes collusion is keeping him from returning to the league.
Pro Football Talk stated that the 29-year-old, who opted out of his 49ers contract in March and has yet to find work with another team despite numerous openings, was seeking to trigger the termination of the current CBA.
"We can confirm that this morning we filed a grievance under the CBA on behalf of Colin Kaepernick," lawyers Geragos & Geragos confirmed in a subsequent statement. "This was done only after pursuing every possible avenue with all NFL teams and their executives.
"If the NFL (as well as all professional sports leagues) is to remain a meritocracy, then principled and peaceful political protests - which the owners themselves made great theater imitating weeks ago - should not be punished and athletes should not be denied employment based on partisan political provocation by the Executive Branch of our government.
"Such a precedent threatens all patriotic Americans and hearkens back to our darkest days as a nation. Protecting all athletes from such collusive conduct is what compelled Mr. Kaepernick to file his grievance. Colin Kaepernick's goal has always been, and remains, to simply be treated fairly by the league he performed at the highest level for and to return to the football playing field."
The National Football League Players Association (NFLPA) pledged to support the player and plans to discuss the situation with his advisers this week.
"Our union has a duty to assist Mr. Kaepernick as we do all players and we will support him," they said in a separate statement. "The NFLPA has been in regular contact with Mr. Kaepernick's representatives for the past year about his options and our union agreed to follow the direction of his advisers throughout that time.
"We first learned through media reports today that Mr. Kaepernick filed a grievance claiming collusion through our arbitration system and is represented by his own counsel. We learned that the NFL was informed of his intention to file this grievance before today. We are scheduling a call with his advisors for early this week."
NFL commissioner Roger Goodell dismissed suggestions that Kaepernick was being "blackballed" back in June, stating that "if a football team feels that Colin Kaepernick, or any other player, is going to improve that team, they're going to do it".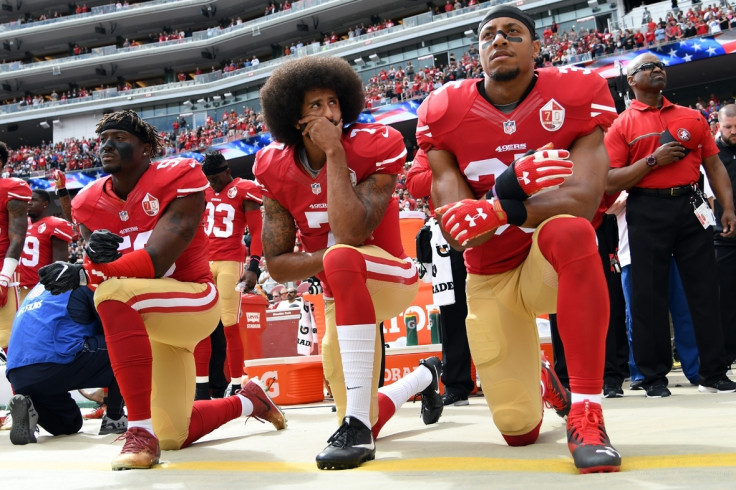 When contacted for comment on this latest development, the NFL pointed IBTimes UK in the direction of a general media briefing held by executive vice president of communications Joe Lockhart.
"Let me say two things," he said. "One is, if you go to Section 10 of the CBA -- I'll read it to you so
everybody has it so you don't have to go look at it. It says, "Unless the parties agree otherwise,
proceedings before the system arbitrator and appeals panel, other than their decision, shall be
confidential and may not be disclosed to persons other than council, senior executives of the
NFL and any involved clubs, senior executives of the NFLPA, the NFLPA Executive Committee,
NFLPA player representatives, and any involved players, players' agents, or club or league
personnel.
"The foregoing does not prejudice the right of any party to seek any additional
confidentiality restrictions from the system arbitrator or appeals panel if such party demonstrates
just cause." What I'd say is, we are going to abide by the CBA and the provisions and not
comment on this in any way.
"The second point I'd make is, on the underlying issue, this question has been put to the
commissioner multiple times over the summer, as recently as opening day of the season when
he went on and talked to Cris Carter on Fox Sports 1. We had a series of fan forums this
summer where the issue came up, both at the Jets' forum, at the Baltimore Ravens' forum, and
many other places. If you are interested in getting all of those, I won't read them for you, but
Brian or Mike can get you the stories where he addresses the issue directly. I'm going to leave it
there based on the fact that we are going to respect the CBA."
Asked for a timeline on when Kaepernick's grievance will be heard, he added: "I imagine this will go before the arbitrator. Confidential means we don't talk about the process or the underlying issues and that is something that we will respect."