Footballers in the UK must "find a voice" to speak out against the issues that challenge their place in society, as their NFL counterparts did over the weekend.
Week three of the new NFL season was dominated by scores of players choosing to take a knee during the US national anthem – a movement started last year by then-San Francisco 49ers quarterback Colin Kaepernick, designed in protest to a pattern of racism against African-Americans from police.
US President Donald Trump's decision to suggest any player who refuses to stand during the anthem anthem "is a son of a bitch" who should be "fired" prompted players, coaches and staff across the country to join that protest, with over 200 players choosing to kneel, sit, pray or raise a clenched fist as the Star-Spangled Banner rang out on Sunday (24 September).
The show of defiance travelled across the Atlantic and to Wembley, where the Jacksonville Jaguars took on the Baltimore Ravens at the home of English association football. It was another contest where the opening procession was dominated by a show of political unity – with 27 players and staff across both sides dropping to one knee.
British audiences will have seldom experienced first-hand such a powerful political message displayed in the confines the sporting arena. This is particularly true in football, where the game's biggest stars have been conditioned to remain silent on society's biggest issues, according to Kick It Out's Paul Mortimer. The former Charlton Athletic midfielder pinpoints the example set by Kaepernick and the many to have joined him since as one that should be embraced on these shores to conquer a climate of fear he feels is embedded in society.
"I have huge respect for American athletes because they are completely different from the modern-day athlete in England. Because they do speak out," Mortimer told IBTimes UK. "They are aware of the social and economic issues that go on in their country. They're fully aware of them, and they're willing to back up what they say.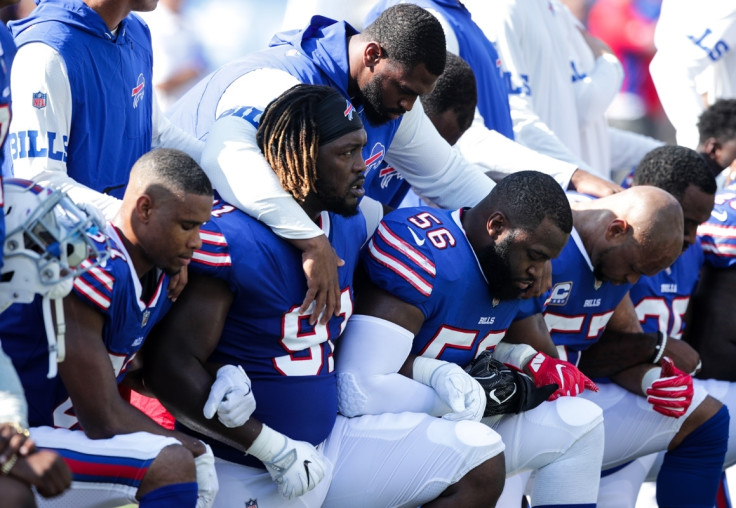 "I have looked at it and I have seen a lot of it and it's really quite an empowering thing. It makes you start to think there is no reason why we can't do something like that over here if people feel strongly about things. At the moment we have cultures and societies where fear seems to be the main thing, people are frightened to talk because there are no procedures in place that will protect them when they do talk. But over there [in America] what you've noticed is the players will say 'you know what, I'm going to speak out'."
He continued: "There are loads of issues [in the U.K.] that really I think that players could just put the question out there. They don't have to be militant, for me, Colln Kaepernick I don't see as a militant. I see him as someone who's put the question out there. 'I'm going to kneel because what I want to highlight is this, what's your thoughts?' The discussion is out there now, and that is the most important thing, that we can discuss it. But football has conditioned players not to talk in this country."
In addition to on-pitch gestures, stars of the NFL have tackled the issue head-on when faced with questions from reporters. New Orleans Saints wide receiver Michael Thomas was one of the many quizzed over the weekend, and he was unable to hide the raw emotion behind what is happening. "As someone in the NFL who is one of those 'sons of bitches', yeah I take it personally," he said. "But it is bigger than me. I've got my daughter. She is going to have to live in this world. I'm going to have to live in this world. I'm going to do whatever I've got to do."
But were a situation to arise where people within football in the UK felt compelled speak out, Mortimer doubts the response would be as powerful as we have seen stateside.
"Football in this country, sport in this country is conditioned differently. You can see in America, it seems to me, or it appears that a lot of the athletes are encouraged to talk. From a very early age they're encourage to talk out, and I'm talking about the sport across the board.
He continued: "Over there [America] they are encouraged to have a voice. And I would be an advocate, I would defend people's right to the hilt to have a voice."