"Taking a knee" during the US national anthem at NFL games was started last year by then-San Francisco 49ers quarterback Colin Kaepernick. The gesture, which is designed to call attention to a pattern of racism in the treatment of African-Americans by US police, was taken up by other players but was down to just six players by last week. Then Donald Trump got involved.
Trump rekindled the controversy at an Alabama political rally in which he suggested any protesting player was a "son of a bitch" and urged owners to dismiss them on the spot, reprising his reality-show catch phrase: "You're fired."
Trump's attack on athletes sparked angry reactions from around the sports world. Coaches, support staff and even some owners joined team members at NFL games around the country and even across the Atlantic. At least 200 NFL players knelt, sat, prayed or raised a clenched fist during the Star Spangled Banner on Sunday (24 September).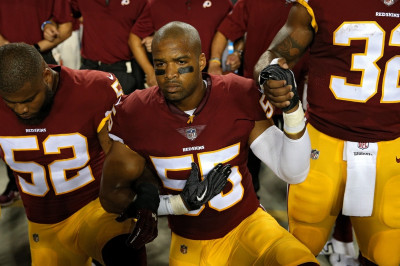 Three teams didn't even take the field until the national anthem was over. Even some of the performers who sang the national anthem took a knee.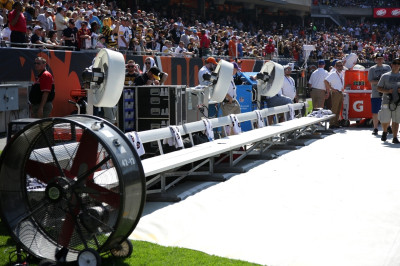 Trump probably didn't realise he'd struck such a nerve with NFL players when he implored team owners to "get that son of a bitch off the field" for protesting during the national anthem.
The line drew loud applause at the his political rally in Huntsville, Alabama, but the words cut deep into America's most popular sports league, where the majority of players are black and many of them grew up in tough neighbourhoods, raised by strong women. "I'm a son of a queen," an emotional Falcons defensive lineman Grady Jarrett said.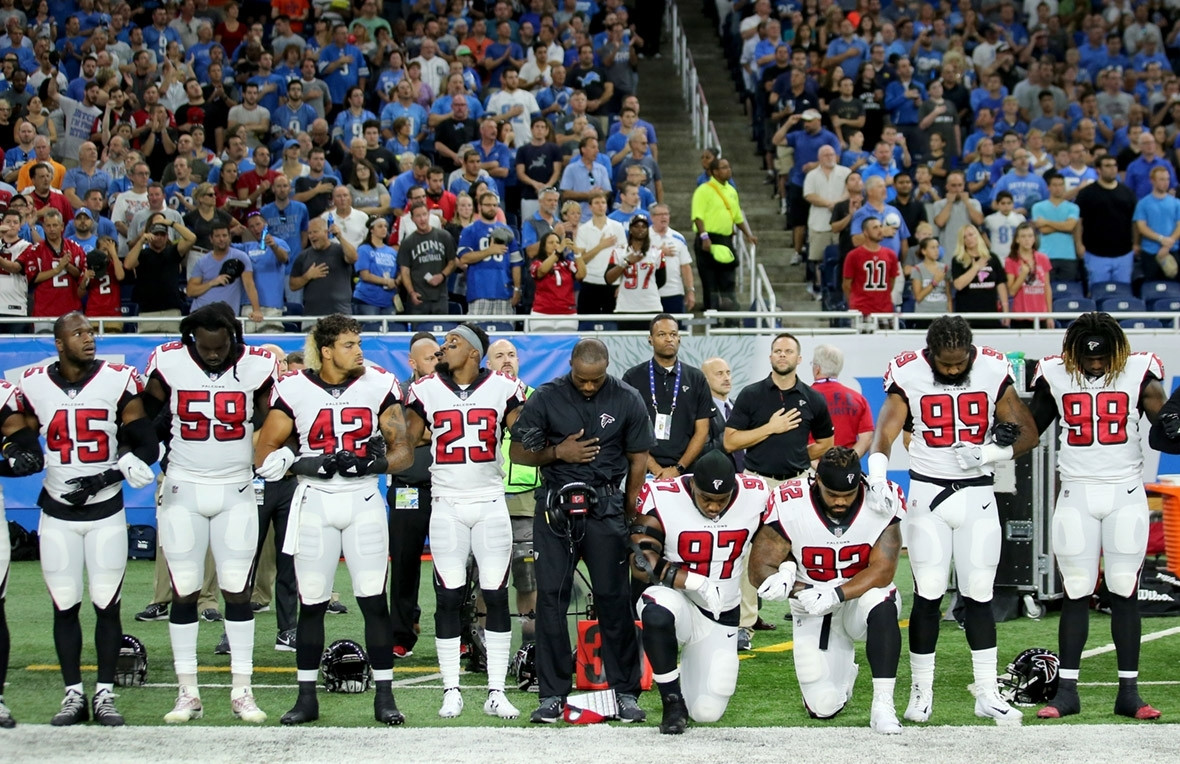 Michael Thomas of the Miami Dolphins said: "It just amazes me with everything else going on in this world, especially involving the US, that's what you're concerned about, my man? You're the leader of the free world and this is what you're talking about? So, as a man, as a father, as an African-American man, as somebody in the NFL and one of those 'sons of bitches,' yeah, I took it personally."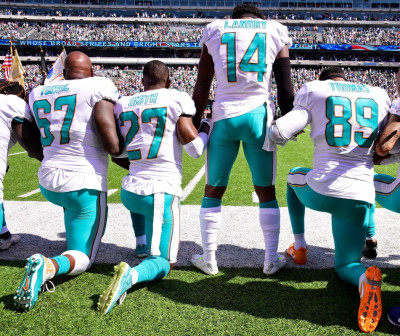 Buccaneers wide receivers Mike Evans and DeSean Jackson, who knelt at the Buccaneers-Vikings game, said Trump's remarks were especially disturbing when juxtaposed to his recent comments equating white supremacists marching in Charlottesville, Virginia, with counter-protesters. "Why is he singling out athletes?" Evans asked. "I really don't really see him tweeting about all the other things going on, the neo-Nazis, the situation in Charlottesville. I don't really see him talking about that much."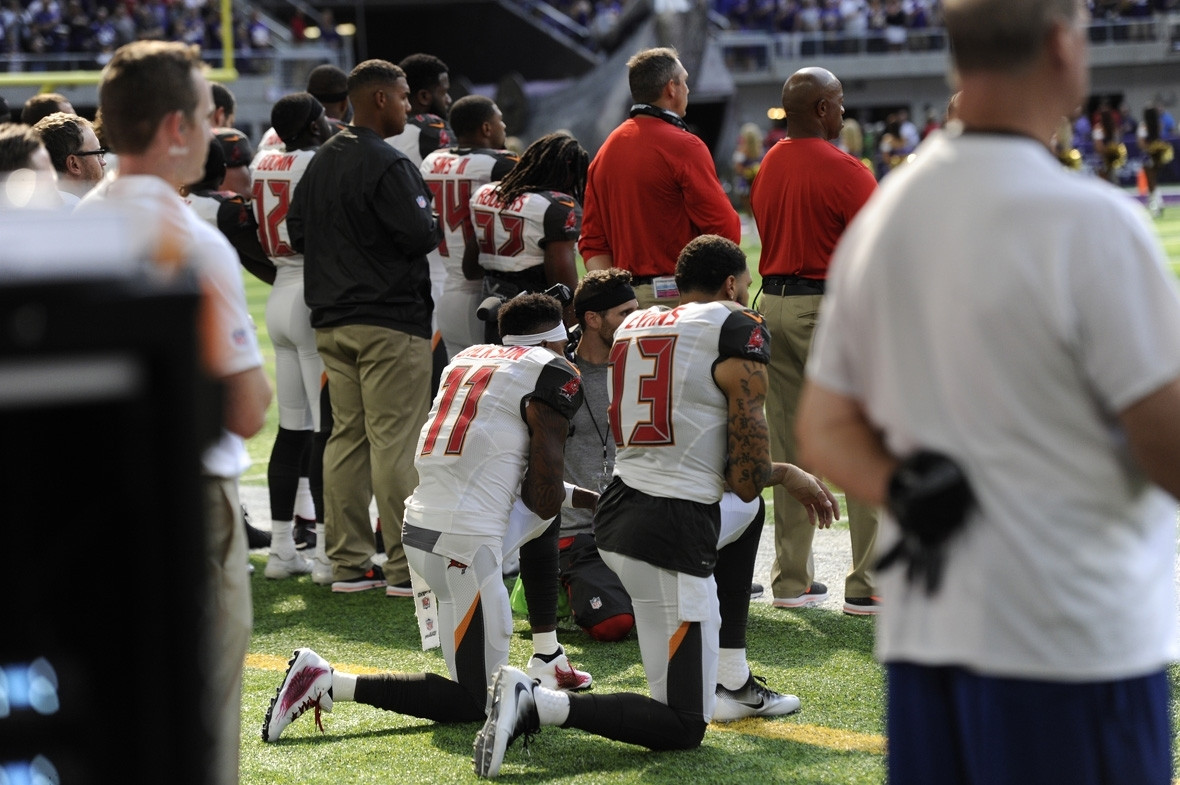 Buffalo Bills linebacker Lorenzo Alexander said he'll go back to standing for the anthem next week but was eager to join in the protests, noting that he supports the military, considers himself a patriot and loves his country. He said he just wanted to show solidarity with his colleagues "especially in the backdrop of our president making the comments about our players, about their mothers. And then you put that in conjunction with how he tried to grey-area Nazism and KKK members as being fine people, I had to take a knee."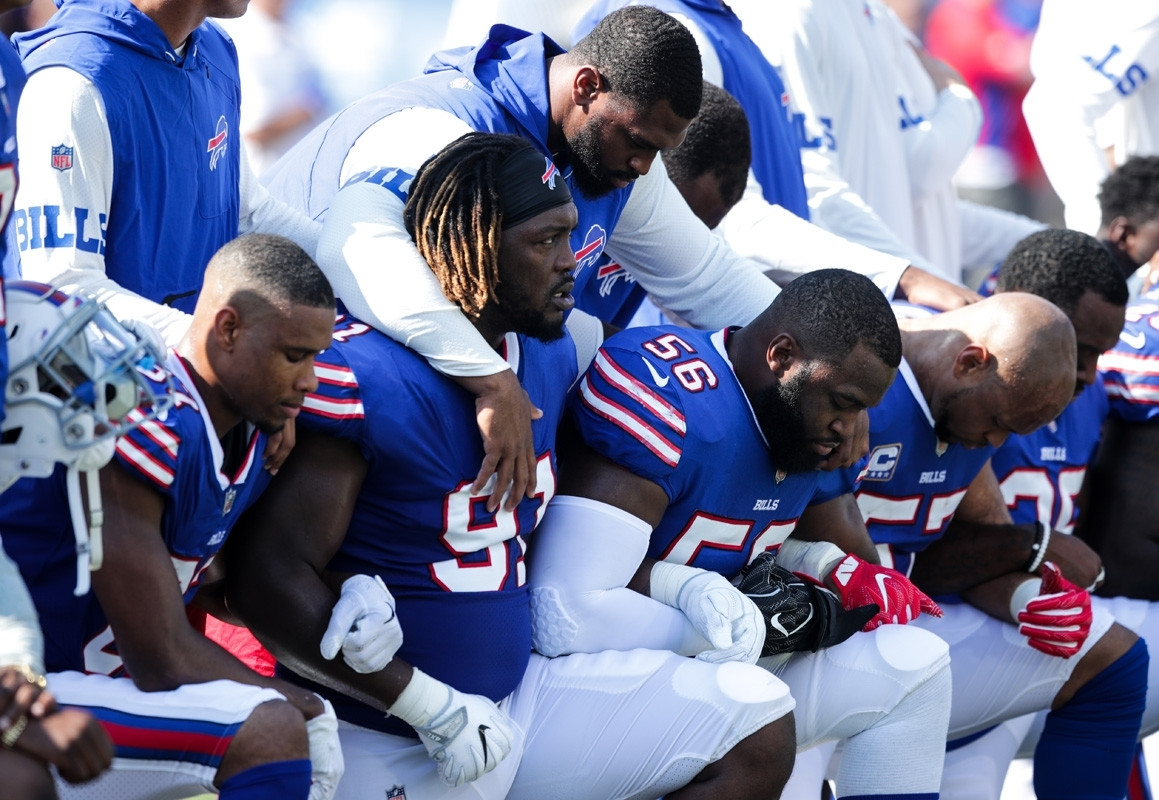 The issue reverberated across the Atlantic, where about two dozen players took a knee during the playing of the US anthem at an NFL game between the Ravens and Jaguars in London. "We stand with our brothers," Ravens linebacker Terrell Suggs said. "They have the right, and we knelt with them today. To protest, non-violent protest, is as American as it gets, so we knelt with them today to let them know that we're a unified front. There ain't no dividing us. I guess we're all son-of-a-bitches."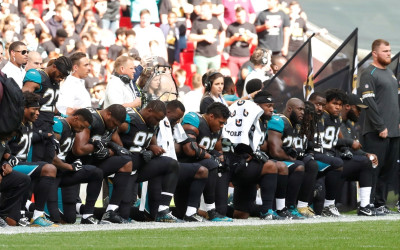 Jacksonville Jaguars owner Shad Khan linked arms with team players in solidarity at the game at Wembley Stadium. Khan donated $1 million to the Trump inauguration fund.
Robert McNair, chairman of the Houston Texans, said Trump's comments were "divisive and counterproductive to what our country needs right now." McNair also donated $1 million to Trump.
New England Patriots Chairman and Chief Executive Robert Kraft, who has dined with Trump and whom the president considers a friend, criticised Trump and defended players' right to protest. "I am deeply disappointed by the tone of the comments made by the president on Friday," Kraft said in a statement. He said players had a "right to peacefully affect social change and raise awareness in a manner they feel is most impactful."
In Foxboro, Massachusetts, more than a dozen players and coaches on the Super Bowl champion Patriots knelt or linked arms, including quarterback Tom Brady, whom Trump name-dropped as a friend on the campaign trail. Brady placed one hand on his chest and used the other to link arms with his teammates.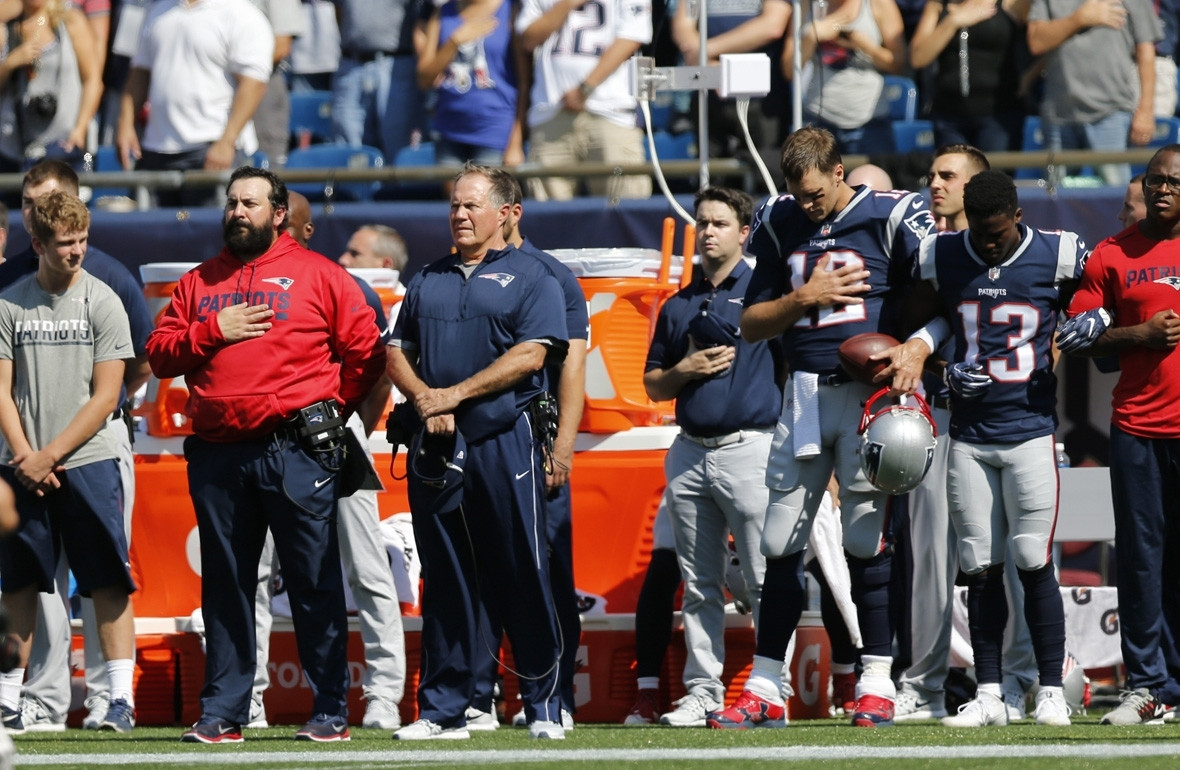 The row has spread beyond the NFL to basketball, athletics and the entertainment world.
Bruce Maxwell, an African-American player for the Oakland Athletics, became the first major league baseball player to kneel during the national anthem. Teammate Mark Canha, who is white, put his right hand on one of Maxwell's shoulders during the anthem. The Athletics released a statement saying they "respect and support all of our players' constitutional rights and freedom of expression."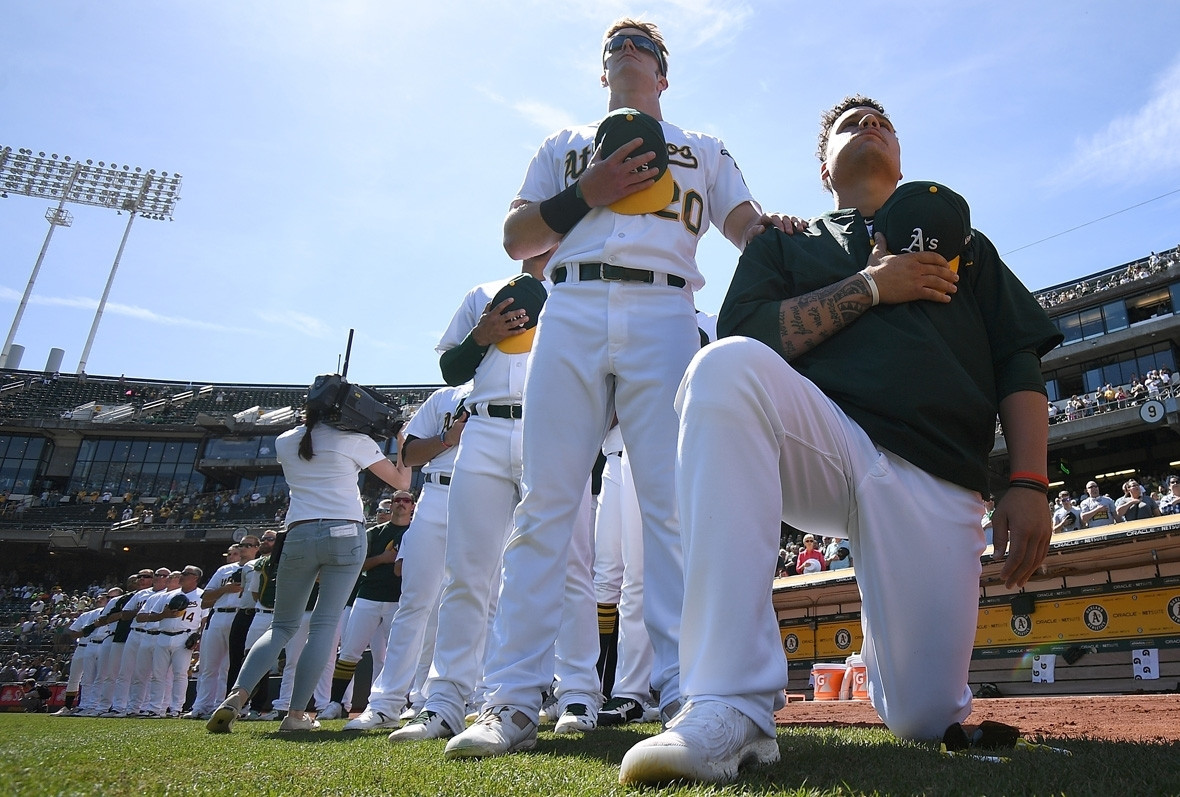 In New York City's Central Park, musician Stevie Wonder knelt on stage at the Global Citizen Festival. "Tonight, I'm taking a knee for America," Wonder told the audience as his son, Kwame Morris, helped him down. Wonder then put his other leg down so that he was kneeling and facing the cheering crowd, with his son doing the same. "I'm taking both knees," Wonder said. "Both knees in prayer for our planet, our future, our leaders of the world and our globe."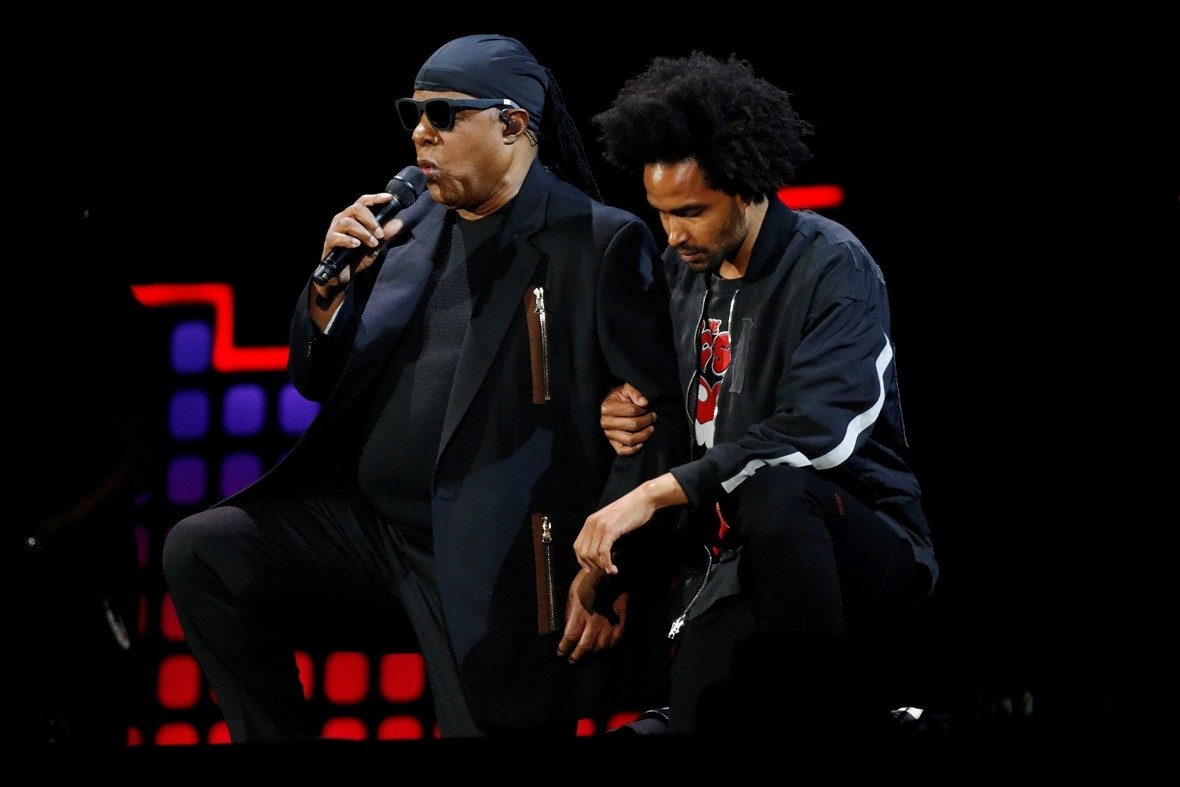 On Friday, NBA star Stephen Curry of Golden State Warriors said he didn't want to go to the White House for the traditional visit by championship clubs to meet with the president. On Saturday morning, Trump tweeted that Curry was no longer invited to the White House. The Warriors ultimately said that Trump beat them to the punch — the inference being they weren't going to the White House anyway.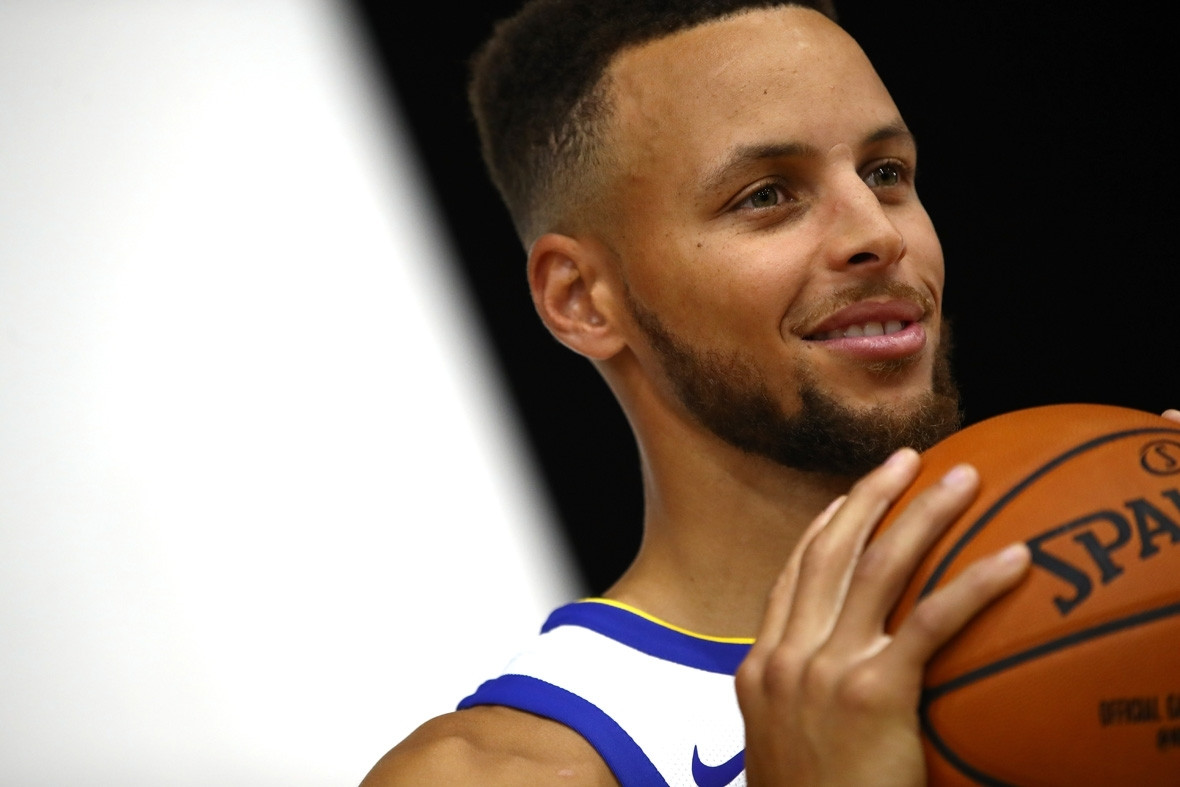 LeBron James took on the President, calling Trump a "bum" in a tweet that has been liked more than 1.4 million times and has become one of the most shared posts of all times. James also released a video, saying Trump has tried to divide the country. "He's now using sports as the platform to try to divide us," James said. "We all know how much sports brings us together. ... It's not something I can be quiet about."
Trump's stance has galvanised the sporting world to assert what they see as a right to express their political convictions freely. It has also highlighted the deep political rift that Trump's election has exposed across many segments of American society.
While some Americans are sympathetic to the protesters, others see the refusal to stand as a sign of disrespect for the flag and for members of the military who have sacrificed or died in defending the country. The theme could play well with Trump's conservative base at a time when the Republican president is grappling with North Korea's nuclear threats, an investigation of Russian meddling in the 2016 election and a healthcare struggle in Congress.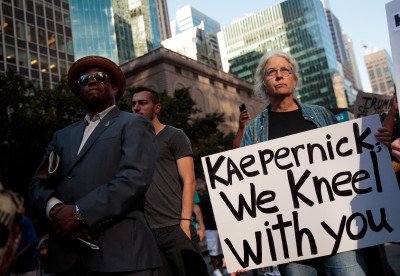 Politics is expected to be centre stage across the NBA on Monday (25 September) when 28 teams gather for their media days — the annual precursor to the start of training camps. Basketball will be talked about, but probably not that much.
"I'm calling on everyone who has ever been a fan or a player, as a kid or as an adult, to affirm our shared values and to reject the President's comments in no uncertain terms," former NBA star and US Senator Bill Bradley said. "It's time to show up, united and cheering together and for one another, at the arenas and stadiums where our common love of the game and for our country takes flight."