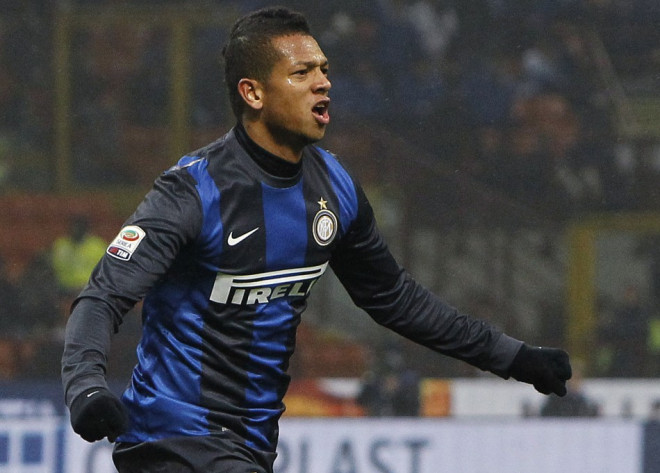 Manchester United and Chelsea's hopes of bringing Inter Milan midfielder Fredy Guarin to the Premier League have collapsed after the Colombian international signed a new deal with Inter Milan, according to reports.
The 27-year-old remained a transfer target for the Premier League champions and the Europa winners in the January transfer window, as he failed to seal a move to Inter's league rivals Juventus last month.
Guarin, who joined Inter on loan from FC Porto in January 2012, was soon to be out of contract in 2016 but signed a permanent deal with the Nerazzurri at the end of that season.
However, according to Inter's official website, the midfielder has signed a new contract extension with the Italian giants until June 30, 2017.
Despite his failure to sign for Juventus, United and Chelsea were keen on signing the Colombian international before the transfer window closed in January. However, no deal took place as the player stayed on with his current employers.
The Colombian told Inter's official website that he was delighted to have extended his deal by a year: "I am very happy that I have reached another dream, I will share this with my family, my team-mates and with the people I am closest to.
"Two years have passed since I arrived and it has always been a positive experience and, with every day that has gone by, I have learnt a little more. Today I can say that for the next three years I will use those experiences and the positive things I have picked up and make the most of them.
"This is a good moment to say 'thank you' to the president, the coach, the staff but above all my team-mates and the fans because the faith they have placed in me has been so important.
"Let's hope I can score to celebrate my new contract, both to help the club to win and to celebrate this special moment."
The midfielder has scored 14 goals in 82 appearances for Inter since moving from Porto in January 2012 and this season has made 29 appearances in all competitions.
Guarin, who won three Portuguese Liga titles and the 2011 Europa League at Porto has also played for St Etienne and Boca Juniors while representing his country in almost 50 matches.
Inter, who missed out on Europe this season are sixth in Serie A.