Colonel Gaddafi: The zombies attack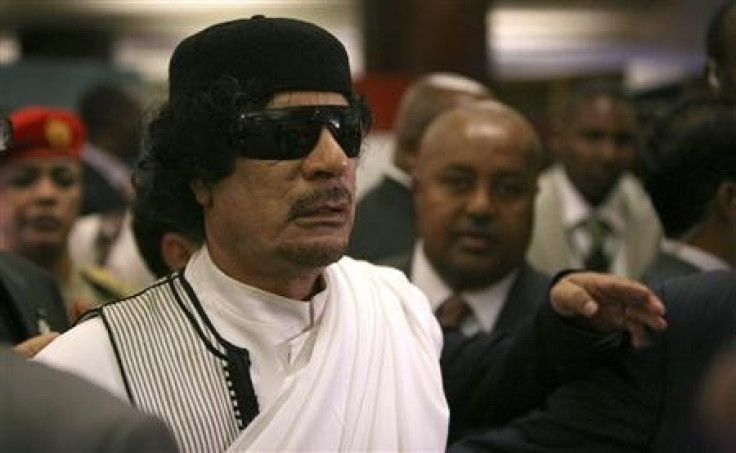 The Gaddafi saga is today continuing with the Libyan colonel still making headlines throughout the world. More interesting than a Hollywood star, the Kings of Kings is still mesmerizing us and his unknown whereabouts are turning him into a serious urban legend. The latest story sees the King of Kings slowly turning into a schizophrenic/paranoiac erratic mess.
According to reports in the press MI6 told the British Prime Minister that as the Nato strikes intensify the leader's coherence diminishes. The rumour has it that he is now moving between different hospitals in the Tripoli area, of course at night, so that no one can see him, in a desperate attempt to avoid the Nato missiles.
Well, the Bedouin warrior, who has anyway always proclaimed his nomadic lifestyle, has once again failed to travel incognito and should start facing the fact that at the moment he is the man everyone wants to hear about. He has not been seen in public since May 11 and has been advised to stop using telephones as his enemies hope his inability to communicate will hamper his ability to fight.
Depicting the image of a man who is paranoid and broken is certainly an attempt to destroy his public image and to further discredit him at a time where his regime is on the brink of collapsing and his most loyal friends are slowly defecting him.
Has it however taken everyone this long to realise that Gaddafi has always been a bit...different. After all, does no one remember him being denied access to Central Park, in his visit in New York in 2009 and being removed from a Donald Trump estate as he insisted he needed an outdoor space to set up his home for the trip, a mobile tent? Or him giving in to his impulsivity when throwing the UN charter at a wall, when addressing the UN council, which he, for the occasion, decided to nickname the "terror council"?
So has Nato really succeeded in getting to Gaddafi by pushing him to have a full nervous breakdown? Doubtfully so, as other reports, which portray him as less of a vampire, also emerge.
It was yesterday reported that his government had contacted foreign states, offering an immediate ceasefire.
Spain said it was one of several European governments to have received a proposal from Libyan Prime Minister Al-Baghdadi Ali Al-Mahmoudi for an immediate ceasefire.
"We've received the message and our position lies with the rest of Europe," a spokesman for the Spanish prime minister's office said.
"Everyone is anxious for there to be an agreement ... but certain steps have to be taken first and so far they haven't been taken," he said.
It is not the first time Gaddafi's government has offered ceasefires before however, each time, these have been rejected by rebels who say they will accept nothing short of the Libyan leader's departure.
However, in another twist, South African newspapers announced that the President of South Africa Jacob Zuma is due to visit Gaddafi at the request of the Libyan rebels, "who have asked him to persuade the Libyan leader to agree to a ceasefire", a senior security official close to Zuma has told the Mail & Guardian.
"Representatives of the rebels came to the president and asked him to please have a discussion with Gaddafi about the way forward," the source said.
"The president is going to see if he can bring sanity to the issues. He wants to have a real discussion and for that to happen, more than three people in the room is a problem. He can't take other people along."
Zuma is visiting Libya as a member of the African Union high-level panel charged with dealing with the Libyan crisis and Zuma's spokesperson, Zizi Kodwa, said that the AU wanted the President to talk to Gaddafi in person.
"The AU appreciates the historical relationship between Libya and South Africa and therefore feels that the president is best placed for this mission," he said.
While most Western and Arabs leader have abandoned Gaddafi, Zuma has until now stayed loyal to his old friend and blames the Nato bombings for aggravating the Libyan crisis. The solution he insists is to establish some kind of communication between the leader and the rebels rather than just focusing on flattening Tripoli. Meanwhile it was also announced that, due to his 'tight schedule' the South African President will not be able to talk to the rebels, despite the fact they were allegedly the ones asking him to come to the country.
As the days pass by, more and more conflicting reports surface, while the conflict remains in full gear. Is col Gaddafi really becoming non compos mentis? or at least more than he already was, or will he next week mutate into a blood thirsty zombie vampire walking the streets of Tripoli at night just like Jack the Ripper? To be continued...
© Copyright IBTimes 2023. All rights reserved.