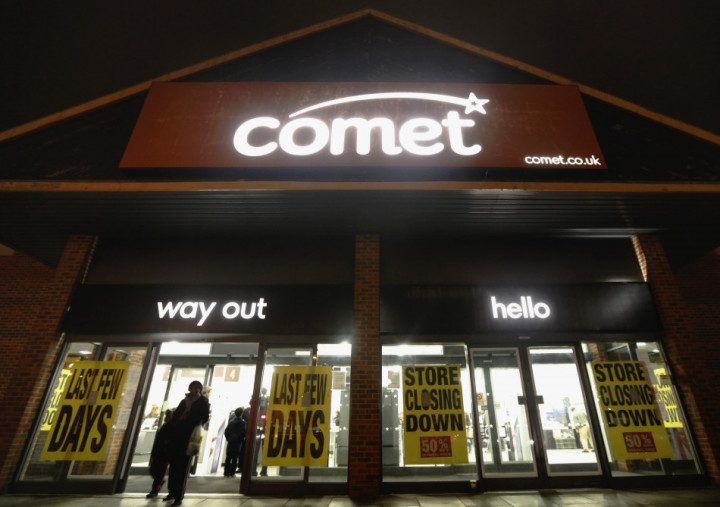 The administrators of insolvent retailer Comet are cutting 735 more jobs at the electrical chain's head office, central functions and across its home delivery network.
This is in addition to the 330 redundancies announced by administrator Deloitte earlier. Comet had 6,611 employees when it fell into administration three weeks ago.
On 17 November, Deloitte had warned that it would close 41 Comet stores by the end of November if it cannot find a buyer for the retailer. Closing-down sales are already underway in 27 stores, with a further 14 expected to be closed by next week. The company had 236 stores in total.
At its home-delivery network, the retailer will lose 603 employees from 12 hubs across the UK. The division will continue its operations with a reduced workforce.
Additionally, a further 132 jobs will become redundant at Comet's head office and support functions around the country. The company's headquarters in Rickmansworth will shed 57 posts, while an office in Hull and a call centre in Clevedon will axe 17 and 56 jobs, respectively.
Deloitte has not announced any in-store redundancies so far. However, it noted that redundancies among 869 full-time and part-time employees working in the 41 stores are inevitable.
"While the Administrators will look to redeploy staff from any stores which do face closure to other stores nearby, there will inevitably be redundancies," Deloitte said in a statement.
The remaining 195 Comet stores will continue to trade as usual with "more generous discounts" on products.
In order to help the affected employees, the company has started an employee helpline and is running an employee assistance programme.
Comet had also established relationships with more than 35 prospective employers including its direct rival Dixons, who are willing to offer jobs to former Comet employees, according to a BBC report.
The 27 Comet stores that started closing down sales comprise of Aylesbury, Barnstaple, Barrow-in-Furness, Beckton, Birmingham/Perry Barr, Brighton, Bury St Edmunds, Christchurch, Crawley, Falkirk, Glasgow - Great Western, Gloucester (St Oswalds), Guildford, Halifax, Harlow, Leeds - Crown Point, Luton, Margate, New Malden, Orpington, Rugby, Selly Oak, Sheffield - Drake House, Southend, Wrexham, Yeading and Yeovil.
The retailer went into administration earlier in November after it suffered from lower consumer spending on big-ticket items and lack of trade credit to fund its stocking. Comet's failure was one of the biggest high-street casualties and a severe blow to the retail sector since the demise of Woolworths in 2008.