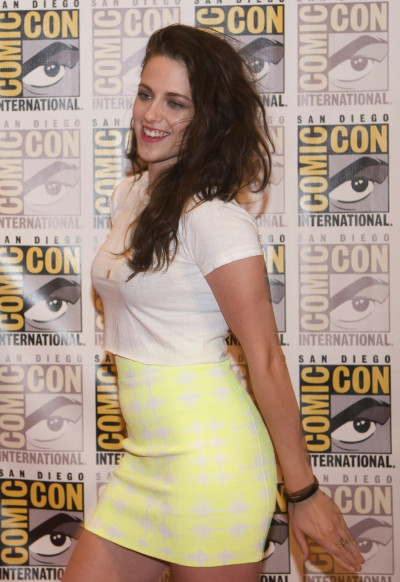 Kristen Stewart opened up about her love-making scenes in the Twilight series at the Comic-Con 2012 held at San-Diego. The actress admitted she and her boyfriend cum co-actor Robert Pattinson went wild doing the steamy scenes.
Kristen said that for the part 1 of the Twilight series, the romance was expected to be sweet as it was a journey of self-discovery for her as a vampire. But part 2 involved love-making as vamps and she wanted it in the wildest way.
"We really tried to keep the first Breaking Dawn sweet. It's about self-discovery. But in the second one we just wanted to be animals. We're not human any more. How do you do that? We tried and they told us it was R-rated stuff and we were like, yeah, let's stop," Kristen said.
It would not have been difficult as her boyfriend cum co-actor Pattinson also believes in wild love-making.
"I love wild love-making. I've smashed many walls while being caught up in the moment," Pattinson had earlier told The Sun.
The duo attended Comic-Con 2012 with co-actors Taylor Lautner and Mackenzie Foy, who plays Kristen's daughter in the movie.
The Twilight Saga: Breaking Dawn-Part 2 is R-rated.
"The ratings, man. It's a tricky thing. We're supposed to have mind-boggling, otherworldly sex in Breaking Dawn - 1, and we really - this is weird - tried to keep the first one sweet. It was really just about discovery. Nothing about this series is raunchy," Kristen was quoted as saying by MTV.
Kristen herself is a fan of Comic-Con as it is her fourth outing at the event.
"I have been obsessed with this thing and it's been such a personal experience and you look over and there are other people that identify with things that I do and that shared energy is the coolest. It's very igniting, it spreads. You like something and you can share it with your friend. Suddenly you guys love it - do you know what I mean? Because you share it. I don't know why this thing was the one that people became obsessed with, but I think it sort of just lit," an excited Kristen said.
Check out the pictures as the Twilight team had fun at Comic-Con 2012: