Conservationists are taking the drastic steps of defacing the shells of ploughshare tortoises in a last ditch attempt to save the reptile from poaching and ultimately extinction.
The ploughshare tortoise is highly sought after on the black market because of its distinctive black and gold shell. As a result, it is believed there are fewer than 500 of this Madagascan species left.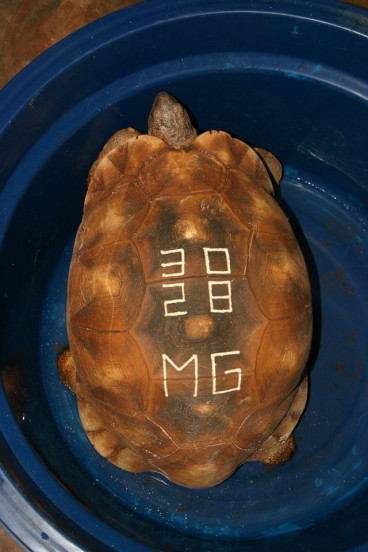 This has led the Durrell Wildlife Conservation Trust, based on the African island, to graffiti the shells, which they hope will lessen their value on the black market and deter poachers.
The Trust has engraved "MG" for Madagascar as well as a large serial number into their tough exterior, similar to the tactic of removing rhino's horns or elephant's tusks to reduce their value.
Richard Lewis, director of Durrell's operations in Madagascar, told the BBC: "We hate doing it but it's got to be done to help save the species.
"It goes against every grain and gene in our bodies to do this – everything says we shouldn't do this, what we believe in, what we stand for.
"But we think this can be a major step in stopping people wanting these animals. We believe this will be a genuine deterrent."
The engravings are only millimetres deep and the staff claim that while it may be uncomfortable for the tortoises, it will not hurt them.
The centre in Madagascar has become a target for poachers in recent times, which has forced them to place it under 24-hour armed guard with electronic surveillance and a team of police.