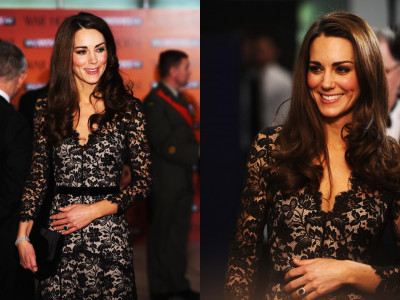 "Imitation is the best form of flattery" they say, and it couldn't ring more true after Kate Middleton copycats managed to pump more than £1 billion into Britain's economy in just one year.
Women eager to imitate the Duchess of Cambridge's style and elegance, so-called 'CopyKates', are spending an average of £250 a year to look like her, say retail experts.
Since her wedding to Prince William last April she has been transformed into a style icon and graced the pages of countless fashion magazines.
As the world watches her fashion choices, the industry continues to benefit from her new-found celebrity status with surging sales of cheaper replicas.
Many items have reportedly sold out within days of her being spotted wearing them.
Debenhams has reported that sales of her trademark nude tights are up 65 percent and its nude shoes sales have doubled since she was spotted in those £175 "Sledge" high heels.
The Sun said that 18% more girls are having £25 blow dries to reproduce Kate's "big hair".
Consumer analyst Alexandra Richmond, from Mintel, told the Sun that its £1 billion figure was "conservative".
She said: "Kate's look has something to appeal to everyone."
Have a look at just a few of Kate's products that women across the globe are keen to copy...