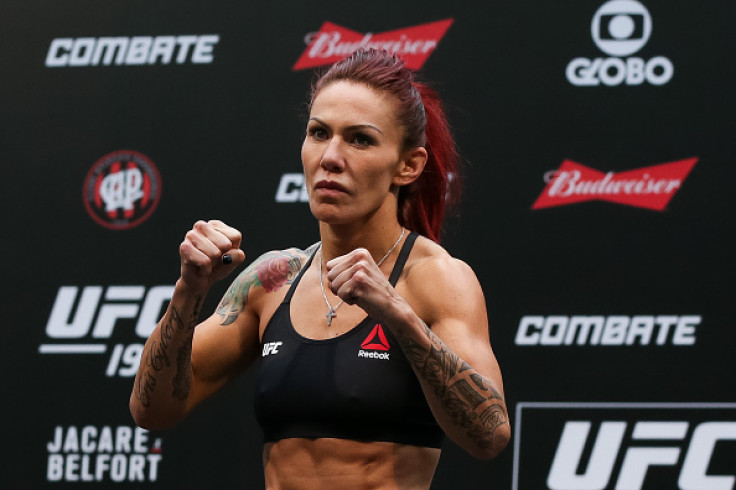 UFC fighter Cris "Cyborg" Justino has been cleared by the US Anti-Doping Agency (USADA) of a potential violation after testing positive for a banned substance in December 2016.
The 31-year-old tested positive for diuretic spironolactone, which she claims she took for medical reasons to recover from her weight cuts.
The Brazilian claims she was prescribed the medication as she was suffering from hypertension and needed to prevent ovarian cysts after she "had an electrolyte hydroelectric imbalance" and a "significant loss of potassium."
Cyborg was subsequently suspended by USADA on 22 December; however, she was granted a retroactive therapeutic use exemption (TUE) as the anti-doping organization made a statement on 17 February.
"In the case of Justino, the application for a TUE was granted because the athlete had an unequivocally diagnosed chronic medical condition for which the use of Spironolactone is the appropriate standard of care," USADA's statement said.
"Further, it was determined that the athlete and her medical team pursued and exhausted all non-prohibited alternatives and that the low dose of the medication is consistent with best medical practice to treat her condition and would return the athlete to a normal state of health without providing a performance-enhancing benefit.
"Because Justino's TUE application was granted retroactively, her provisional suspension has been lifted with immediate effect and her positive test will not result in an anti-doping policy violation. However, as a condition of the TUE approval, Justino will be required to continue to carefully document her medical care and must apply for a TUE renewal in advance of TUE expiry should she wish to maintain compliance with the UFC Anti-Doping Policy," it said.
Cyborg – who has a 17-1 record in MMA - took to Facebook to describe her happiness with the news.
"I am extremely happy that USADA took the time to carefully review the detailed TUE application that I submitted, and agreed that my use of the prescription has always been medically justified. I look forward to returning to the octagon as soon as possible, and proving that I am the Pound for Pound champion of WMMA. I would also like to thank my fans for their continued support, who made a very difficult time easier for me," she wrote.
Cyborg will now be focusing on the newly crowned women's featherweight champion Germaine De Randamie, who controversially won the belt at UFC 208 by defeating Holly Holm.
However, the new champion suggested she required hand surgery when asked about facing Cyborg following the main event.
.