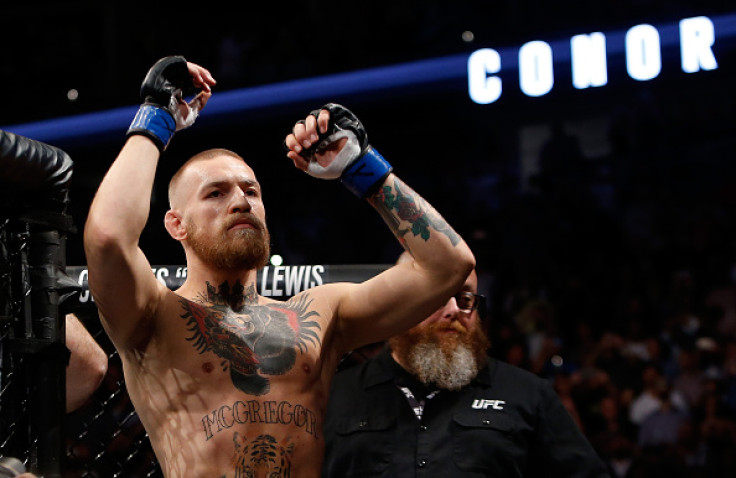 Ultimate Fighting Championship (UFC) star Conor McGregor says he gets his confidence from his big b**l sack and has taken a swipe at Nate Diaz by claiming the latter dropped like a "sack of s**t" in his victory over the American fighter at UFC 202 in August 2016.
McGregor created history by becoming the first fighter in the promotion's history to hold two-titles simultaneously after battering Eddie Alvarez at UFC 205 last November. The UFC lightweight champion, who is the current biggest star in the UFC, is known for his trash talk ahead of his fights.
Prior to their fight, Alavrez had sought an apology from McGregor and the UFC star responded to that he will apologise to "absolutely nobody". The 28-year-old, who looks extremely confident both inside and outside the octagon, has revealed the source of it.
"It's all in the n*t s**k. It's all in the b**l sack. I just have confidence that comes from my big b**l sack, and I know when I smack you, you're going down. And that's it," McGregor told GQ in a lengthy interview.
McGregor fought thrice in the last calendar year, winning two fights against Alavrez and Diaz and lost one to the latter at UFC 196 in Las Vegas, in March 2016. However, he got his revenge over the welterweight fighter when he defeated him five months later at the same venue via unanimous decision 48-47, 47-47, 48-47.
The Irishman claimed there is no fighter in the company, whose work and shots are as clean as his, which was one of the key reasons that helped him beat Diaz at UFC 202.
"No one's work is clean like my work. My shots are clean. My shots are precise. Look at Nate. Nate was 200 pounds. When I hit him down, it was exactly like if a sniper took aim at someone in between their eyeballs and let the thing rip. The way he dropped, it was like a sack of shit. So that's a power I have," he stressed.