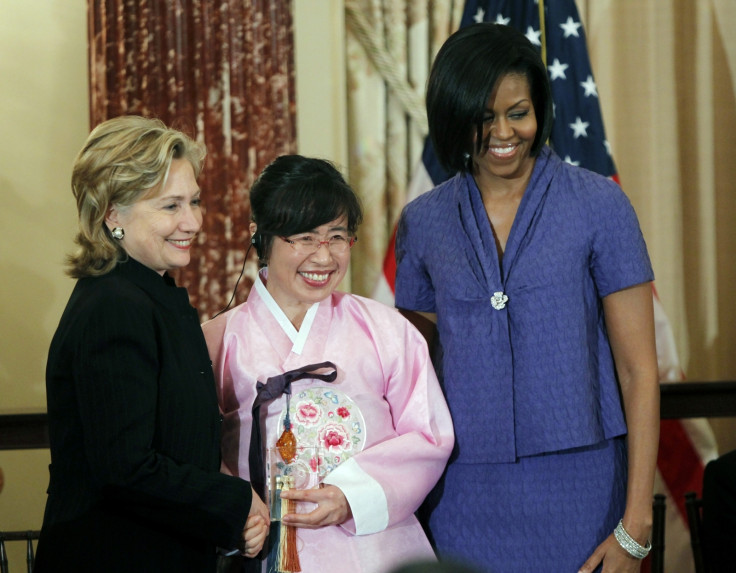 A North Korean prison camp survivor has launched a crowd-funding campaign to finance the assassination of dictator Kim Jong Un.
Dr Lee Aeran, 53, courageously defected from the communist regime after eight years of hard labour to begin new life in South Korea in 1997.
She now runs a restaurant in Seoul where diners can donate cash towards the killing of the 33-year-old dictator, so far amassing around £2,300.
Dr Lee was awarded the International Women of Courage award and was presented the prize by Hillary Clinton and Michelle Obama in 2010.
Dr Lee told MailOnline: "As long as Kim Jung-un is alive, world peace isn't possible. I believe North Korea needs to implement a society based on democracy and that Kim Jung-un must be eliminated. The best way to do that is to assassinate him.
"North Korea is a closed society so of course this will be difficult. So I decided to have a campaign awarding prize money to anyone that could kill him.
"This may motivate people close to him. The fundraising campaign will reward the person who can kill him."
Divided opinions
The mother-of-one first thought of the idea for her crowdfunding campaign three years ago, but was stirred to act after the death of US student Otto Warmbier in the summer.
Warmbier was jailed in Pyongyang last year for stealing a hotel sign, but was released on medical grounds in June and died six days after returning to Ohio in a coma.
But Dr Lee admits that her campaign to kill the North Korean dictator has divided opinion, even among her most loyal diners.
She said: "Some customers strongly support the campaign and have donated to it. Others have gotten angry, said it's awful and that they won't return to my restaurant."
Aeran's troubles in North Korea began when was exiled along with her family to a prison camp in the rugged Ryangganag Province at aged ten.
She and her family endured beatings, starvation and hard labour. Eventually the family risked execution by making their way across the Amur River into China, before travelling to Seoul after months on foot. But she was forced to leave her husband behind before she made her escape.
At her restaurant Dr Lee solely employs female North Korean defectors in her restaurant, to help teach them about life in a capitalist society.
She said: "Life of North Korea was the same as slavery. To have peace in the world, we need to cooperate with people who believe in freedom, and get rid of North Korea."
US President Donald Trump is currently in North Korea as part of an 11-day Asian tour where he will meet regional leaders.
The American leader's trip will be dominated by escalating tension in the region caused by North Korea's nuclear programme and Chinese trade relations.
Pyongyang has carried out three nuclear missile tests within the last 12 months, leading to a recent furious war of words between Donald Trump and Kim, which has hinted at a nuclear exchange.