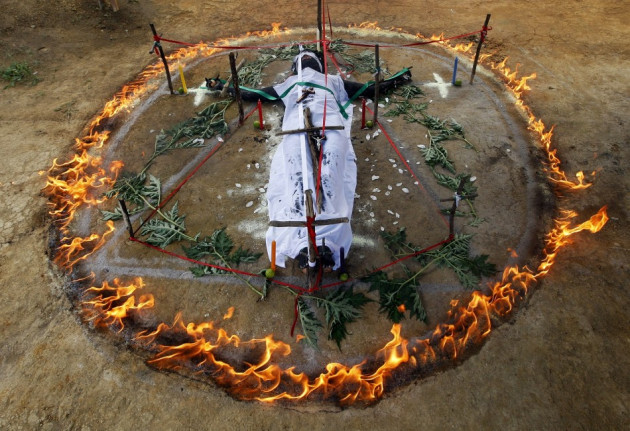 Four people have been jailed in France for kidnapping a 19-year-old woman, crucifying her with tied ropes, and leaving her until she was close to death in an attempt to exorcise malign spirits they believed had possessed her.
When police found the victim, known only as Antoinette, in a flat on a housing estate in Grigny, a southern Parisian suburb, she was tied to a mattress, emaciated, dehydrated, in shock, and with wounds indicating she had been beaten .
A court heard that her former boyfriend, Eric Derond, who believed he was a prophet on a divine mission, had decided that she was possessed when she leapt on him and started babbling incoherently. He claims she agreed to the exorcism.
Antoinette and the three men and one woman who kidnapped her are all of French Caribbean origin, and met at a gathering of the Seventh Day Adventist Church, a protestant millenarian group that has millions of followers in the US and worldwide, and 13,000 in France.
Her abductors kept Antoinette barely alive by feeding her water mixed with oil.
Antoinette claims that Derond brainwashed her, and her father has stated that if police had arrived just two days later she would have been dead.
Derond, who was judged to be the group's ringleader, received the longest sentence for his role in the kidnapping.
His six-year sentence was less than the 12 years demanded by prosecutors, after all four were acquitted on charges of torture and barbarism.
Speaking after the sentence was delivered, Antoinette, who is now 21, said that she thought the defendants had got off lightly for the attack which had left her deeply traumatised, and that she considered them to be "dangerous people".
The Seventh Day Adventists said that those convicted had all been expelled from the church more than a year before the crime, and none of its teachings advocated the use of exorcism.