Bitcoin Price: £357.06 (down 3.11% - via CoinDesk.com)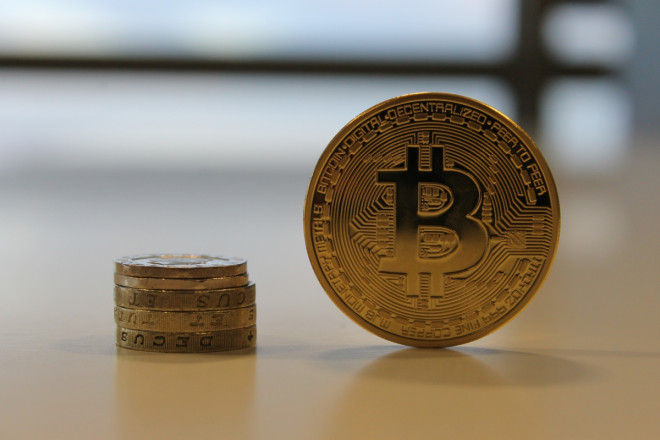 The cryptocurrency market was as stable as it has been in a long time in the last 24 hours, with the big movers in recent days auroracoin and spaincoin finally settling down (relatively speaking).
Bitcoin's value dropped a modest 2.59% while litecoin, peercoin and dogecoin all saw slightly bigger falls of 6.2%, 5.9% and 4.1% respectively.
Auroracoin continued to see its value climb back after taking a big hit a few days ago, up 18% compared to Wednesday, but its fellow country-based cryptocurrency spaincoin continued to lose value, down a further 34% in the last 24 hours.
---
Bitcoin's Future: Cloudy with a Chance of Success
---
Predictions of bitcoin's success and failure are coming thick and fast these days, and the latest to weigh in on the matter is the financial research company Aite Group.
In an 18-page report the company's retail banking research director Julie Conroy looks at the pros and cons of bitcoin and determines what it would take to see wider Bitcoin adoption.
Conroy concludes that while bitcoin has issues that need to be addressed - including the self-imposed programmatic limit of 21 million bitcoins which could lead to a deflationary outcome by discouraging spending in favour of saving - the platform addresses many of the "fundamental inefficiencies in payments."
Conroy adds:
"How and whether to engage with bitcoin is not the only question that players in the legacy payment industry should be contemplating. How to address the challenges of bitcoin 1.0 and capitalise on the platform's promise represents opportunity for all."
---
---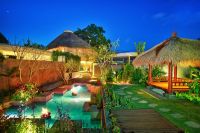 The single largest bitcoin purchase has seen an unknown buyer secure a Bali villa for in excess of $500,000 worth of bitcoin through luxury bitcoin marketplace BitPremier.
At today's exchange rate, that would be the equivalent of around 840 bitcoins.
BitPremier is the creator of Alan Silbert, brother of known bitcoin bull Barry Silbert who is also an investor in the luxury marketplace venture.
---
Scrypt Mining Rigs Selling Like Hotcakes
---
Scrypt mining rigs called Titan have been put up for pre-order and such is the hunger for this type of machine that Swedish-based KnCMiner sold $2 million worth of hardware in just 4 hours.
That's 200 of the $10,000 machines which will be shipped in the second or third quarter of 2014.
Scrypt-based cryptocurrencies like litecoin and dogecoin are not seen as having much more value for people looking to invest in the area, as bitcoin mining needs serious investment such as this setup in Seattle and this one in Iceland.
---
Dogecoin Nascar
---
Members of the dogecoin community are clearly big sports fans.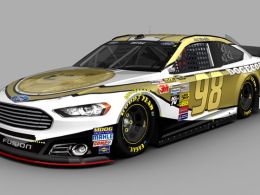 First the community sent the Jamaican bobsled team and a trio of Indian skiers to the Winter Olympics in Sochi, and now the vociferous community want to sponsor a couple of Nascar drivers.
A Reddit user asked if it would be possible to fund driver Josh Wise in the Sprint Cup Series using dogecoin.
However a full-car wrap for just a single Nascar race will cost $50,000, making it a very high target of 63.5 million dogecoin at the cryptocurrency's current price.
So far just over $2,000 of the goal has been raised with 74 days left to reach the target.
---
Amazon, Google, Starbucks Gift Cards Available Using Cryptocurrencies
---
Pock.io, a UK-based online retailer, is now offering its customers the chance to buy gift vouchers for the likes of Amazon, Google, Asos and Starbuck with a variety of cryptocurrencies such as bitcoin, litecoin, dogecoin, maxcoin
Gyft, a California-based website already offers something similar but Pock.io co-founder Rusty Nash, says there is still a big opportunity in this area:
"I knew about the concept of gift cards way before the Gyft and other competitors started selling them in exchange of cryptocurrencies. When I explored, I found there was such market existing in US, but there was nothing in the UK as such. I then thought to fill the gap by launching Pock.io."
---
The Price of Doge
---
Checking the price of your cryptocurrency of choice can become an obsessive habit.
Has it gone up? Has it gone down? How much has its value changed since I last checked it four seconds ago?
In a bid to relieve this pressure, The Price of Doge website has done away with all that, telling you that the price of one doge is......one doge.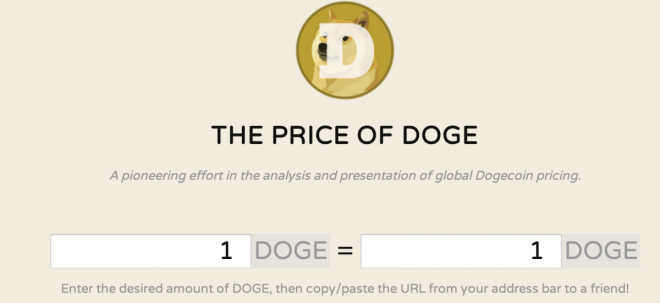 Such simple. Much Wow.