It has been, by any standards, a pretty eventful 24 hours in the world of cryptocurrencies.
Overall most cryptocurrencies are down with a couple of notable exceptions. Dogecoin continues its inexorable journey "to the moon" growing 27% in the last day while Mastercoin has seen growth of 12%.
Pretty much every other cryptocurrency lost value in the last 24 hours however, as continued problems with bitcoin trading and DDoS attacks saw the value of bitcoin drop more than 5%, dragging most everything else down with it.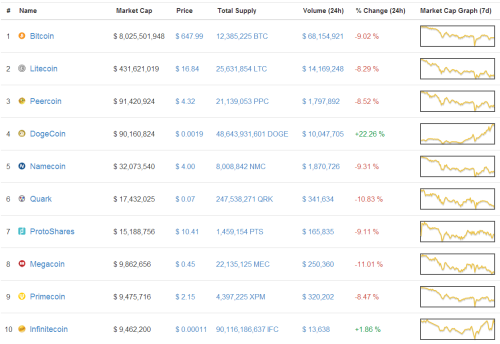 ---
Mt Gox Mystery
---
The day started out with Mt Gox blaming the suspension of currency withdrawals on a known flaw within bitcoin. This sparked a major price crash of more than 20% in the immediate aftermath, but the price soon bounced back, showing remarkable resilience.
In the hours following the announcement, many people have debunked the explanation from the under-fire Tokyo-based bitcoin exchange, saying the flaw was known about for many years and it would not have caused the problem.
Many people on bitcoin forums continue to believe that the exchange is having liquidity problems and could soon go under, bringing with it a huge amount of the bitcoins in circulation today.
---
Dogecoin soaring
---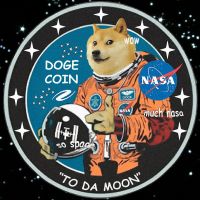 Whatever about bitcoin and its travails, dogecoin is clearly the cryptocurrency of the moment. It has soared almost $40 million dollars in value in just a couple of days and is not the world's third most valuable mineable cryptocurrency.
In the last 24 hours the currency has gained 27% and its market capitalisation now stands at $92.6 million putting it just ahead of peercoin in value. It has been an incredible rise for the meme-based cryptocurrency, and it doesn't look like it's going to stop here.
---
"Massive and Concerted" DDoS Attacks
---
If the Mt Gox problems weren't enough for bitcoin owners to worry about, on Tuesday evening a number of major bitcoin exchanges reported they were under attack distributed denial of service (DDoS) attacks.
BitStamp was one of those affected and it suspended withdrawals as a result, with Blockchain chief security officer Andreas Antonopoulos calling the attacks "massive and concerted".
The purpose of these attacks is to drive down the price of bitcoin by spooking inexperienced cryptocurrency investors into selling the coins at lower prices to the attacker, who then wait for a rebound and sell at a higher price.
While bitcoin is certainly down (around 6% in last 24 hours) it is probably less of a dip than the attackers were hoping for.
---
---
Microsoft has added bitcoin to its Bing search results, meaning it should be much easier to track the value of the cryptocurrency. So far it is the only one included, but you can now type "bitcoin to US$" into the search bar to get instant results.
It is only available in the US, UK, India and Australia for now, but should be rolling out globally soon.