Although Cuba's national sport is baseball, boxing is the sport where they have achieved the greatest dominance at the Olympic Games. Since the 1968 Games, Cuba has won a total of 53 medals – 33 of those gold. No other country comes close to those numbers.
Boys as young as eight start boxing at local gyms. If they do well there, they may be offered a spot at one of the provincial boxing academies. From there, the best fighters are selected to go work out at the junior national team training centre, and if they are good enough, they may then be picked for the national team – where there are only 12 spots available to represent their country at the Olympics.
Getty Images sports photographer Ezra Shaw travelled to Cuba to document the country's passion for boxing.
The first place he visited was the Rafaelo Trejo Boxing Gym in Havana. This may not be much to look at, but many Olympic medallists have started out in this ring under a corrugated iron roof. Spectators watch fights from the stands in the gym – and from the windows of the run-down apartment blocks around it.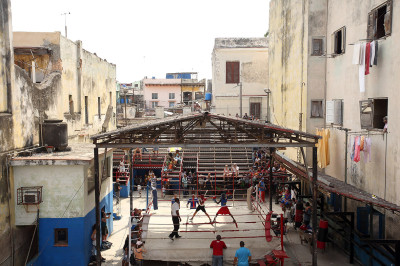 Kids from all over Havana come to train with coaches such as two-time Olympic gold medal winner Héctor Vinent Cháron.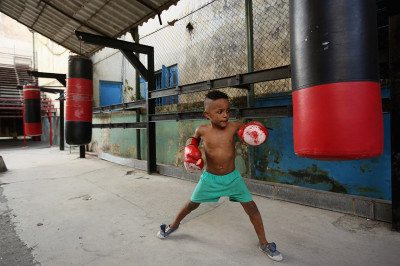 Shaw arrived during a youth competition between two local clubs. He said: "Most of the kids were only about ten, but they sure hit each other like teenagers."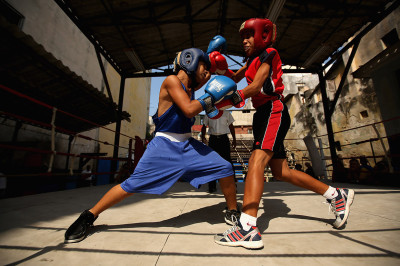 On day two of his trip to Cuba, Ezra Shaw headed to Alamar, a suburb of Havana, built in the 1970s. The gym at the Salvador Allende Sports Complex is a small, dingy room under an empty Olympic-sized swimming pool. Sacks filled with sand serve as punch bags.
These are typical conditions for many young hopeful Cuban boxers.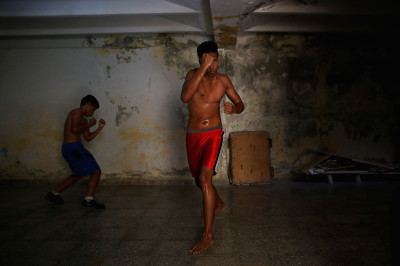 Shaw says his next day in Cuba was extremely special, as he got to visit the home of Félix Savón, winner of three Olympic gold medals (Barcelona, Atlanta, and Sydney) and six world titles.
Shaw said: "What I wasn't expecting was for Savón to be there and to be so welcoming. He told me about his career and about the first time he met Fidel Castro. He told me about his choice to stay in Cuba even though he was offered millions to fight overseas. And he told me about how he started painting after retiring from the sport. I was torn between trying to scribble down notes as fast as I could, or just sitting there and enjoying the time with him."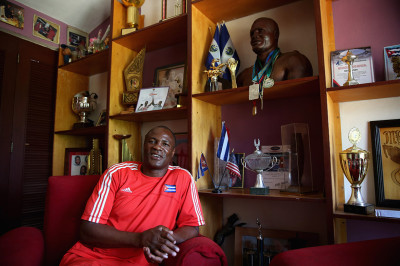 On his final day in Cuba, Shaw travelled to the town of Hershey, founded by the US chocolate tycoon Milton S Hershey in 1916. In the 1950s, thousands of people worked at the local sugar plant. When Fidel Castro came to power in 1959, he nationalised the plant. It eventually closed in 2003, and is now an abandoned shell.
The Mayabeque Boxing Academy is just a block away, and the boxers have to walk through the remains of the buildings to get to the gym.
Looking back on his assignment in Cuba, Shaw said: "It was a fantastic trip and an unforgettable experience. Havana is a magical city and I hope more Americans get to eventually enjoy this wonderful place."
It seems the feeling is mutual – former Cuban castaway Elian Gonzalez told ABC News he hopes to return to the US one day. And, as the two countries are currently engaged in talks aimed at overcoming obstacles to opening embassies in each other's capitals, this may soon become a reality.