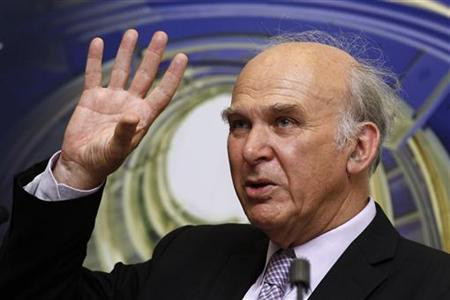 The Communication Workers Union has said it will oppose plans to privatise the Royal Mail, saying the offer of 10 per cent of shares to the workforce is "patronising".
Business Secretary Vincent Cable said today that Royal Mail would see the second largest employee shares scheme in 25 years of privatisation, after that of British Telecom in 1984.
The commitment to give at least 10 per cent of shares to Royal Mail workers is to be enshrined in a Postal Services Bill, due to be introduced this autumn.
Vince Cable said, "I want to take action to secure the future of two cornerstones of British life - Royal Mail and the Post Office. The much valued Post Office is not for sale and there will be no repeat of the previous closure programmes.
"But Royal Mail is a different business, with different challenges. It is struggling under the weight of some huge pressures: pressure from email and falling mail volumes; pressure from a dire pension position; pressure from a lack of money to invest.
"The only way to save it for the future is to bring in new private capital to support the ongoing modernisation and growth opportunities. This will bring new commercial disciplines and the enormous public sector deficit means that the taxpayer does not have an endless supply of money to meet the company's investment needs.
"We also have to tackle the multi-billion pound pension deficit and put in place lighter touch regulation that gives the company a good chance in the market and protects the universal postal service that so many of us depend on.
"But just as important is the engagement and participation of staff in turning this company around. That is why our legislation will include a specific provision to make available at least 10% of the shares in Royal Mail to employees, as part of the privatisation process. This is a once in a generation chance to transform the culture at Royal Mail - energising everyone and allowing employers and employees to share in the company's future success."
However the CWU condemned the plans, with CWU General Secretary Billy Hayes saying, "Any offer of shares to employees is deeply patronising for people who have invested their working lives in this public service.
"The British public currently owns 100 per cent of Royal Mail and now 90 per cent is to be sold off to the banks and financial institutions that have created Britain's current financial crisis."