Fonterra, the world's largest exporter of dairy products, announced the head of its New Zealand milk products business Gary Romano has resigned with immediate effect, in the wake of a contaminated milk scandal that rocked the firm.
No reasons were given for Romano's departure. Fonterra revealed in August that an ingredient in some of its dairy products, shipped worldwide, contained harmful bacteria.
Romano was the first Fonterra official to face the media as he tried to contain the repurational damage caused by recalls of Fonterra products, following the milk scare.
Theo Spierings, Fonterra's chief executive, will take charge of the business in the interim.
On 3 August, Fonterra said that it had found that an ingredient in some of its products contained a strain of bacteria that can cause botulism, a disease leading to severe food poisoning.
The contamination scare triggered product recalls in several important markets such as China, where local firms were ordered to halt imports of some Fonterra products. The official Xinhua news agency said Chinese consumers were losing faith in New Zealand's 'clean' image.
"Gary has made a significant contribution during his time at Fonterra and we respect his decision," Spierings said in a statement.
However, an executive of a large and influential New Zealand farmers' lobby group said Romano's resignation seemed premature.
"I'm very surprised that he took that responsibility. I'm not so sure heads should roll even before the inquiry is finished," Willy Leferink of Federated Farmers told Radio New Zealand.
"Maybe the personal pressure was far too much."
New Zealand is racing to get to the bottom of the problem as the dairy industry is a top revenue earner, contributing about 7% of the country's GDP.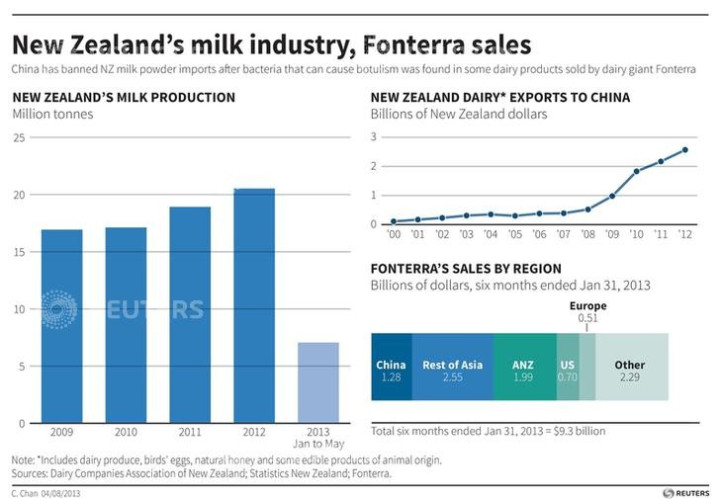 Four inquiries - two by Fonterra, one by the New Zealand government and another by the food safety authority - will investigate the contamination issue. Fonterra believes a dirty pipe contaminated an ingredient at one of its manufacturing plants.
Although the company has not specified which products are affected, it has said that dairy items linked to fresh milk, yoghurt, cheese, spreads and ultrahigh-temperature-treated milk products are safe.
Repeated Issues
This is the second dairy contamination case in 2013 to involve New Zealand's largest company.
At the beginning of the year Fonterra warned that it had found traces of dicyandiamde, also called DCD, a potentially toxic chemical used in fertilisers, in some of its milk powder.
Although it was found late last year, the reports emerged only this January.