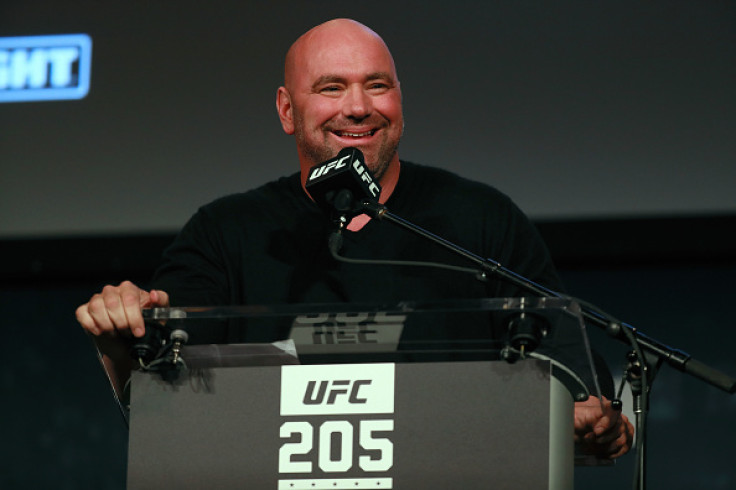 Ultimate Fighting Championship's (UFC) president Dana White has confirmed that two-weight champion Conor McGregor will not return to the octagon at least until May after his girlfriend has given birth to his first child.
The Irishman created history earlier in the month at UFC 205 when he beat Eddie Alvarez to become the first fighter in the history of the championship to hold two weight titles – featherweight and lightweight - simultaneously. McGregor announced after the fight that he will be taking a lengthy break and decide his future course of action.
"He won't fight before May. His girl [Dee Devlin] gets super stressed out when he fights. He doesn't want her having any of that stress while she's pregnant," White told the Los Angeles Times.
"He's good. He should take time off. He's been fighting nonstop. Nothing wrong with him taking time off. It's good for him and her and it's good for the baby," he added.
The UFC president also reiterated that he is confident the company will not suffer in the absence of its top draws such as McGregor and Ronda Rousey, who has hinted that she could call time on her career following a UFC 207 title fight against reigning bantamweight champion Amanda Nunes.
White confirmed that UFC, which is owned by WME-IMG, is planning on introducing something new that will 'blow people's minds' over the next few years. He also praised WME co-CEO Ari Emanuel, who is working alongside him, and made it clear that this is just the start of bigger and better things to come.
"We've done this for 16 years, with a lot of big stars who couldn't fight or moved on – Chuck Liddell, Anderson Silva, Georges St-Pierre," White said. "There's not a day in this office I don't get the question, 'What are we going to do about this guy?' Every day I turn around, I've got a reporter saying we've peaked. If I listened to any of that ... , we probably would be done," the UFC president added.
"But I can tell you, we're just getting started. Ari is a bright, fresh-eyed guy who's just getting into this business, and he's in love with it," he said.
"What Ari brings to the table, what he does and knows is amazing ... we have a meeting in Russia [this month] and we're going to China after that, and working on some stuff that'll blow people's minds and be a lot of fun over the next five to seven years," White explained.
"I love this sport, this company and I come to make big fights," White said.