UFC president Dana White has revealed he would like to see Brock Lesnar make a return to MMA as rumours continue to swirl.
Lesnar has long been rumoured to be making a return to the Las Vegas-based promotion as his on-screen WWE manager Paul Heyman recently told TMZ that he could do anything he wanted, including fighting in the UFC.
"I think Brock Lesnar does whatever Brock Lesnar wants to do," Heyman said. "If Brock Lesnar wants to fight in UFC, Brock Lesnar will fight in UFC.
"If Brock Lesnar wants to fight in WWE, he will fight in WWE. Brock Lesnar does what Brock Lesnar wants to do."
Earlier this month, White claimed he wouldn't be surprised to see the former UFC heavyweight champion return, and he has now stirred the pot further by tweeting a picture of him and Lesnar in Las Vegas.
Shortly afterwards, TMZ released a video of an exclusive interview with White from a few days earlier where he was queried about Heyman's comments and whether Lesnar would be able to wipe out the current heavyweight division.
"Stipe's [Miocic] pretty tough," White replied while laughing. "Stipe's pretty tough you know. I think Brock's under contract though right now but I'd like to see it.
"I'd like to see him come back. Brock's been fun, when Brock Lesnar won the championship, it was fun, he was fun."
According to reports, Lesnar's current WWE contract expires after the company's flagship show at Wrestlemania 34 where he is set to defend his Universal championship against Roman Reigns on 8 April.
The 40-year-old, who is expected to lose his title to Reigns, would then be able to return to the UFC, though it must be noted that it is entirely possible he is using the rumours of a return to negotiate a more lucrative contract under Vince McMahon as he did in 2015.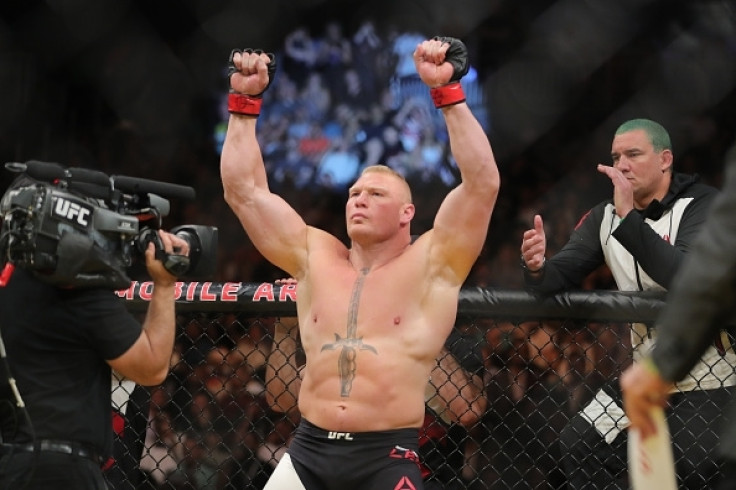 Following his contract renewal with the WWE three years ago, Lesnar would compete under the UFC in a one-off deal in the summer of 2016, defeating Mark Hunt via unanimous decision at UFC 200.
The win was overturned, however, after he tested positive twice for the banned substance clomiphene. He was subsequently given a one-year suspension by the United States Anti-Doping Agency (USADA) before reportedly retiring from the UFC permanently.
Lesnar's retirement meant his suspension was frozen as he was no longer in the USADA drug testing pool as per the company's policy. According to Post Wrestling though, it is possible that Lesnar has "quietly reentered" the pool which would expedite an MMA return.
The Minnesota native was previously expected to take part in a super fight with former light heavyweight champion Jon Jones before the latter saw himself get stripped of the title for failing a drug test and could face a suspension of up to four years.
"Bones" notably has a hearing scheduled for Tuesday (27 February) with the California State Athletic Commission where he will learn his fate.