WWE wrestler and MMA fighter Brock Lesnar has failed US Anti-Doping Agency tests for the second time, this time an in-competition drug test on 9 July, the Ultimate Fighting Championship (UFC) announced on Tuesday evening.
The promotion company acknowledged that Lesnar had tested positive for the same substance that saw him fail an initial test conducted on 28 June. The USADA (US Anti-Doping Agency) will not reveal the name of the drug until the 39-year-old fighter first makes it public himself.
Last week, the USADA had confirmed that Lesnar was tested a total of eight times in the month leading to UFC 200, with him passing the first of the five tests and failing at least two of the last three.
The American, who was returning to the Octagon ring for the first time in five years, made a successful comeback to beat Samoan Mark Hunt at UFC 200, winning by an unanimous 29-27, 29-27, 29-28 decision.
Post-fight, Lesnar confirmed his plans to return to the wrestling ring at WWE's SummerSlam event and that he is yet to make a decision if he wants to continue fighting in the UFC.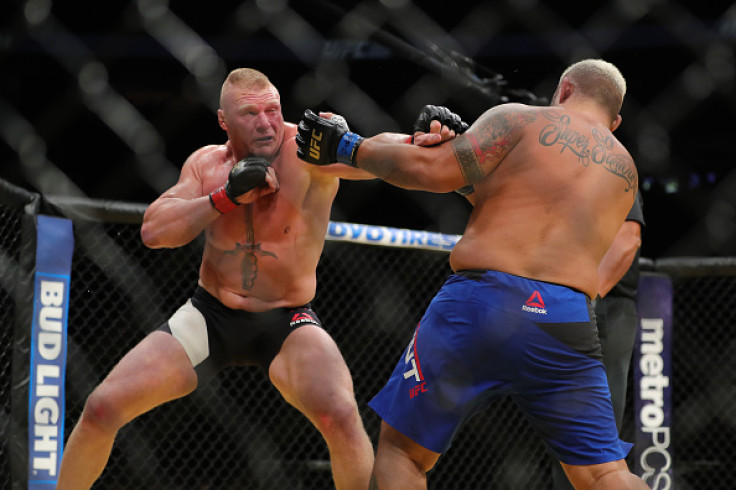 "The UFC organization was notified today that the USADA) has informed Brock Lesnar that his in-competition sample collection from July 9, 2016 at UFC 200, has tested positive for the same substance as his previously announced out-of-competition collection on June 28, 2016" a statement read as released by the UFC.
"USADA, the independent administrator of the UFC Anti-Doping Policy, will handle the results management and appropriate adjudication of this case. It is important to note that, under the UFC Anti-Doping Policy, there is a full fair legal review process that is afforded to all athletes before any sanctions are imposed. The Nevada State Athletic Commission also retains jurisdiction over this matter as the sample collection was performed at UFC 200 in Las Vegas."
Lesnar, a former NCAA Wrestling champion and two-time defending UFC champion had never tested positive for a banned substance before the 28 June out-of-competition test. If found guilty he could be banned from participating in future UFC events.