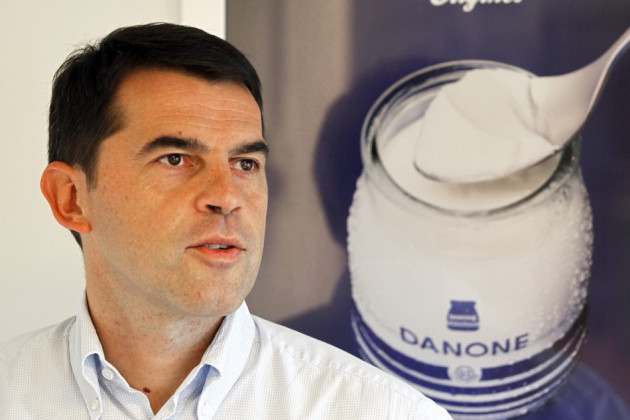 Danone shares plunged in early trading Tuesday after it warned that markets in Southern Europe, notably Spain, would hit its profit margin hard
Shares in the world's biggest yoghurt maker fell nearly 7 percent to €48.51 in Paris even as the producer of Activa, Volvic and Evian brands kept its 2012 sales growth and cash flow targets unchanged. Danone said that rising raw material costs, such as in milk and packaging, will significantly impact the operating profit margin.
Chief Financial Officer Pierre Andre Terisse said that Danone planned to respond to declining consumption in Southern Europe with price cuts but that it was too early to provide details.
Terisse added that despite the rise in costs and the 50 basis point reduction in the group's 2012 target for operating margin Danone still forecasts a 5 percent to 7 percent "like-for-like" sales growth and free cashflow of €2bn for this year.
The news may impact Danone's ability to buy certain assets of Nestle the group is planning to sell as part of its efforts to get regulatory approval for its $11.85bn purchase of Pfizer's baby food division. Danone is the world's second-largest baby food maker and lost a bidding war with Nestle for the Pfizer unit. Analysts have said that Nestle could be forced to sell around 30 percent of the division - most likely units in Latin America and the Middle East - to satisfy competition concerns.