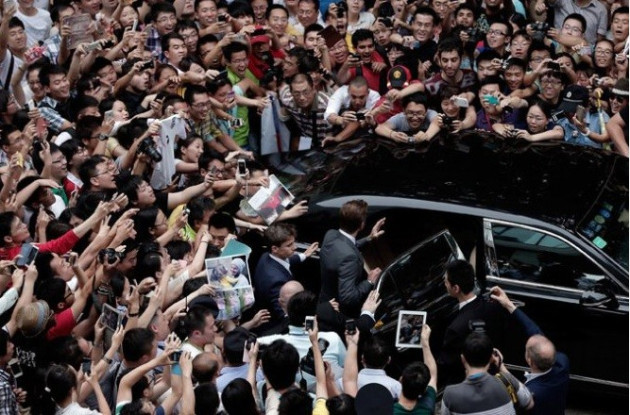 At least seven people have been injured after an official visit by David Beckham sparked a stampede at a sports stadium in Shangai.
Three police officers, two security guards and two students were injured when fans stormed the Tongji University stadium to catch a glimpse of the star, Shanghai police said.
About 1,000 fans had gathered at the stadium gate, where the footballer was scheduled to meet the university's football team, the state-run Xinmin Evening News reported.
Beckham's arrival prompted mass hysteria among the crowds as fans stormed the gate of the stadium in the northeast of the city, breaking through police lines.
One of the injured students is foreign, but the authorities have yet to disclose their nationality.
"I was standing in the second row to take a picture of Beckham and then people started to push against each other," one woman said.
"Someone in the front fell but people at the back were still pushing, so I fell over too. I couldn't breathe. I was really almost dying."
Amateur video footage showed people pushed to the ground in the crush, shoes scattered and a uniformed woman being carried away, her face covered in blood.
Fans grappled with security personnel as ambulances arrived to take the injured to hospital.
"Too crazy," said Chu Dan, a Tongji University football player who had hoped for "some interaction on the pitch" with the former England footballer.
"We didn't expect so many people showing up here - too many fans of Beckham."
The event was subsequently cancelled, Xinmin said. Shanghai police said they were investigating the incident.
Beckham, who has been hired as an ambassador to promote football in China, is on a seven-day tour to back its ailing Super League (CSL).
Beckham later used his Sina Weibo microblogging account to wish the injured a swift recovery.
"I had an incredible response from everyone at Shanghai Tongji University today. Sorry I couldn't get out on the pitch to see the teams. It was impossible to get through the massive crowds," Beckham said.
"I heard there were a few injuries, hope the fans are ok and I wish them a speedy recovery."
The star is expected to attend a CSL game in the eastern city of Hangzhou on 22 June, before joining his wife Victoria at a charity auction in Beijing the following day.