Prime Minister David Cameron has been trialling a new iPad app that is claimed to help him see at a glance what the country thinks about the government, as well as employment and housing statistics, and data pulled from social media.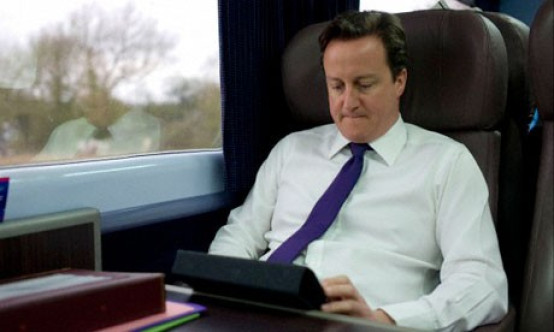 Given the working titles of Number 10 Dashboard, the programme is a web app, so it can be accessed through the web browser of any device connected to the internet, although it is intended for internal use by government staff only.
Currently used solely by the PM, the app will be made available to more government officials next year, according to the Cabinet Office.
Developed by the Office's digital team, the app pulls data from hundreds of sources, including Google, Facebook and Twitter, to provide an overview of the position of the country and what people are saying online.
The Office confirmed that it is "working on a data visualisation dashboard to provide ministers and civil servants with information on key public services as well as other indicators. The dashboard is in working form and is now undergoing further development."
A BBC source inside Number 10 has confirmed that the app is currently running on the prime minister's iPad, as well as devices used by a select group of staff within the Cabinet Office.
The source added that it's "been presented to the PM in person...he's used it, given feedback on it to help improve it - and there is now great demand for it right across government," adding that it will be rolled out across Whitehall in 2013.
Fruit Ninja
Cameron has said before that he uses his iPad for playing games like Angry Birds and Fruit Ninja.
Keeping track of social networks, the app provides the PM with information on trending topics and keeps tabs on activity around key words such as "mortgage" and "loan".
The app also pulls data from London-based start-up Adzuna, which aggregates large amounts of data from a range of job vacancy and property listings sites; this will allow the PM to see in real-time data about how many job vacancies there are each day and what the average salary on offer is.
Despite claiming to help the prime minister do his job, it is not yet known how reliable the live and unverified data will be, and how it will help him and his staff.
Given that Twitter's trending topics currently include "MentionSomeoneYoureGladYouMet", "Barcelona" and "Morning", and the most recent tweet addressed to the PM is "If @David_Cameron is using an iPad app that summarizes public opinion to make decisions, we should have his resignation by the end of today", then we're not so sure that Twitter can be used effectively to help Cameron and his Office.