Manchester United manager Sir Alex Ferguson has lavished praise on David Gill upon the confirmation of the 55 year old stepping down as chief executive.
Gill will remain as a director at Old Trafford after a decade as the club's chief executive, after originally joining as finance director in February 1997.
Executive vice chairman Ed Woodward will take over the position from 30 June 2013, assuming roles which include United's transfer activity and player contracts while Gill will turn his attention to running for a place on Uefa's executive committee, the elections of which are in May.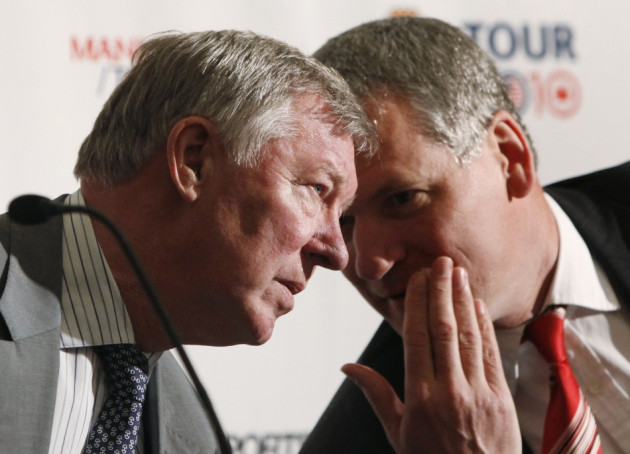 "It has been the greatest privilege to serve Manchester United for 16 wonderful years - the last 10 of which as its chief executive," Gill said. "I have worked alongside the finest manager in the history of the game and been part of what I consider to be the best club in the best sport in the world.
"There is nowhere like Manchester United in world sport and if I have played a small part in maintaining and enhancing that reputation, then it has been an honour."
During Gill's tenure as chief-executive United have claimed four Premier League titles, three League Cups, one Champions League, one Club World Cup and one FA Cup.
Ferguson has paid his own tribute to Gill, who also sits on The Football Association Board, lamenting his departure but claims he respects his decision to move on in the summer.
"David has been a magnificent chief executive," Ferguson said. "Of course, we have had a million arguments, but I have always enjoyed them because I know that David has two great qualities: he is straight and he always puts Manchester United first.
"No disagreement is ever personal with him. He always wants the best for United, whether it's the players, the training ground or the staff.
"Him stepping down is a big loss to me but the fact that he is staying on the board encourages me that the reason for his departure is heartfelt, that he believes it is time for the club to move on.
"If I could have found a way of persuading him to stay I would love to have done that. But he has made his decision and I respect him for it."
Meanwhile, United commercial director Richard Arnold will become the club's new group manager director.