A monster great white shark measuring more than six metres has been filmed high fiving a diver off the coast of Mexico.
The shark, dubbed Deep Blue, is believed to be one of the biggest ever filmed.
The footage of the pregnant female was captured while a team were filming for the Discovery Channel's Shark Week in 2013, but the video did not end up making it into the programme.
However, Mauricio Hoyos Padilla, one of the researchers on the trip, came across the video on his computer earlier this week and posted it to Facebook, Grind TV reports.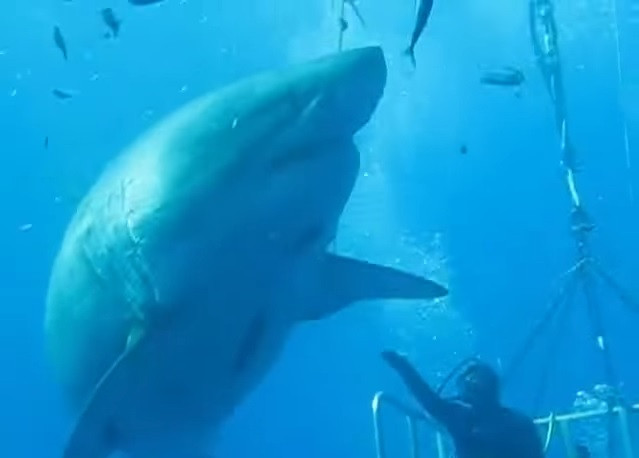 "I give you the biggest white shark ever seen in front of the cages in Guadalupe Island... DEEP BLUE!!!" he wrote.
In the film, the shark is seen approaching the boat before a diver leaves the cage to high five her fin. She then circles the cage before swimming off into the deep.
While Deep Blue is indeed massive, she is not the biggest great white ever seen.
A 6.4m great white was caught off the Gulf of Mexico in 1945 by six fishermen during their daily hunt.
In 2013, a great white estimated to have measured more than 7m also attacked a woman off Maui – from the bites, the doctor said the shark must have measured around 25ft, but this could not be verified.