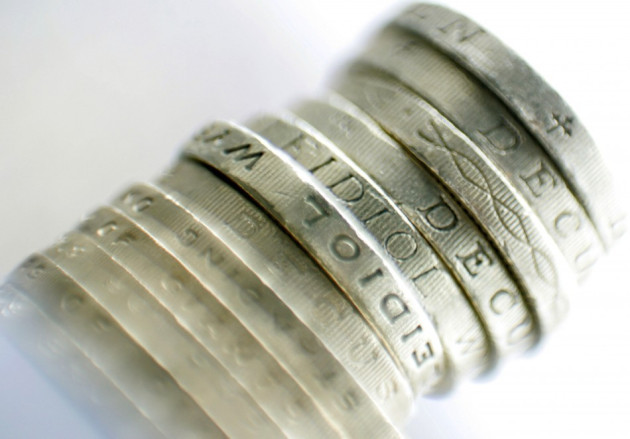 Chief Financial Officers at large UK firms plan to amass cash and cut costs to bolster balance sheets in 2013, after weak growth prospects in Europe and at home overtook fears of a single currency break-up.
According to the 22nd benchmark 'Deloitte CFO Survey: 2012 Q4 Results,' by the accountancy and consultancy group, the biggest concern for financial chiefs is that growth will be in short supply this year even as many said they are in a more 'optimistic mood' than when they entered 2012 [Chart 1].
"Perceptions of financial and economic uncertainty remain high. The central concern for CFOs in 2013 is the economy, just as it was at the start of 2011, 2010 and 2009. CFOs seem less worried about company-specific issues such as margins, cash flow and credit availability. Indeed, large companies enter 2013 with healthy balance sheets and benefiting from benign financing conditions," said Ian Stewart, chief economist at Deloitte and author of the report.
"In the fourth quarter of 2012, CFOs reported a sharp decline in credit costs and now rate credit as being cheaper than at any time in the last five years. The economic outlook remains murky, but the cost and availability of debt finance, at least for the large businesses in our sample, have improved significantly in the last four years," he added.
The survey was conducted between 25th November and 11th December and 112 CFOs participated, including the CFOs of 36 FTSE 100 and 38 FTSE 250 companies.
The rest were CFOs of other UK listed companies, large private companies and UK subsidiaries of major companies listed overseas, with the combined market value of approximately 35 percent of the UK quoted equity market.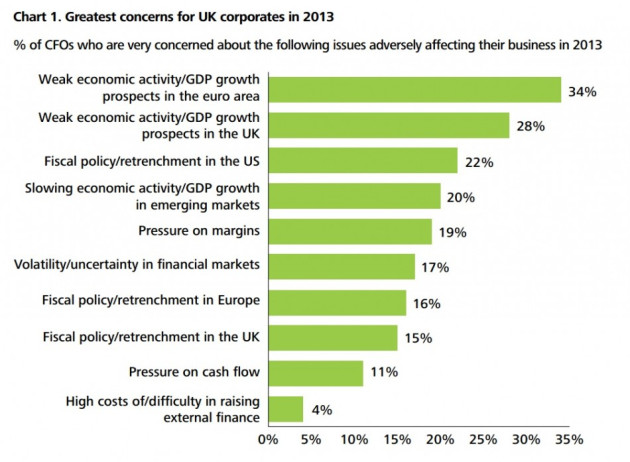 While the credit crisis whittled down credit availability for a number of years, CFOs told Deloitte that business this year is more likely to be constrained by low growth and uncertainty rather than access to capital. Only 4 percent of CFOs surveyed named access to capital as a core concern.
"Large companies enter 2013 with a stronger focus on cutting costs and bolstering cash flow than at any time in the last two years," said Stewart.
"Yet CFOs have not closed the door to growth. About half of CFOs think that troubled times create opportunities to take market share and expand capacity, or to implement overdue change within the business. Big businesses are also more positive about undertaking capital expenditure than they were a year ago. The difference now is that such opportunities are more selective. CFOs cannot rely on steady growth to lift revenues. They have to work harder for, and carefully judge the risks of, expansion," he said.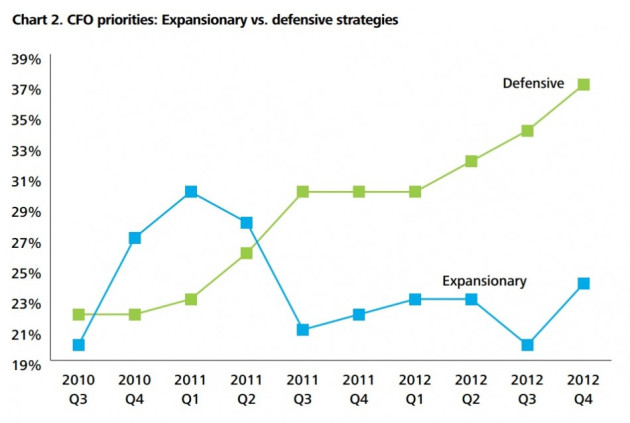 Last year, CFOs told Deloitte that their biggest fear was a single currency break-up and the impact it would have on business in the Euro area, as well as the ripple effects on UK activity.
"CFO sentiment see-sawed through 2012, largely in response to the bad and the good news from the euro area. Through these ups and downs corporate strategies have become steadily more defensive over the last year [Chart2]. By and large big corporates have the firepower to hire and invest. Five years on from the onset of the financial crisis the missing ingredient, and one which holds the key to corporate behaviour, is confidence about future growth," says Stewart.
While, such fears have receded and optimism has risen "sharply from the lows seen at the end of 2011," a majority of the CFOs told Deloitte that the areas of greatest concern relate to micro, rather than macroeconomic policy in the UK; regulation, infrastructure, energy and immigration [Chart 3].
"For CFOs it is the micro side of the economy, rather than monetary policy, that needs attention," says Stewart.